Tatsuya tanaka captures everyday life in a calendar of miniature objects and tiny figurines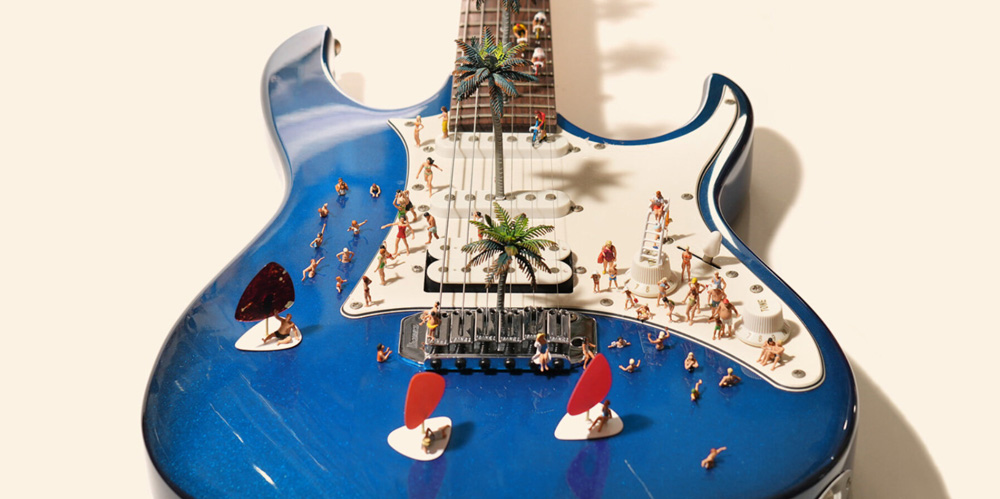 Designboom_ Tatsuya Tanaka is no stranger to miniature artmaking. He has long photographed and crafted miniature calendars of everyday scenes and created minuscule scenes using face masks and household items. His ongoing exhibitions named 'MINIATURE LIFE' at Ono Castle Hometown Museum, Fukuoka and Okinawa Prefectural Museum – both of which run until September 3rd, 2023 – testify to his decade-long commitment to finding and unfolding more creative ways to depict everyday life using miniature objects, tiny figurines, and yearly calendars visitors can own.
Tatsuya Tanaka's imagination wanders around for his August 2023 calendar. It might not be too often that discarded cup noodles or paper coffee cups become drums or a citrus reamer is portrayed as a white dress for courtship, but in the Japanese photographer and artist's calendar miniature art, they show up loud and clear. Other everyday objects serve a different purpose in his creations: a pair of sunglasses as a barbecue grill, a sheet of paper as a blanket in a notepad that has been transformed into a bed, and even a cassette tape as a sushi bar.
Tatsuya Tanaka is fascinated with the idea of'the interest of likening one thing to another. 'He tells designboom in 2015 that by doing so, one can see how everyday things can become more fun when imagined in a different way.'It is important that the miniature calendar is understandable in its intention for everyone – young and old, of any nationality. So, I try to use familiar things and address familiar matters,'he shares with designboom.
In his miniature calendar for August 2023, the depiction of familiarity comes through. He assembles chocolate bars and tiny cups as the interior and backdrop for his mini restaurant. He scatters cooked rice on a sheet of cling wrap as if to prepare sushi but turns it instead into a camping site. Unused screws and staples line up to create a steel-clad cemetery, and Tatsuya Tanaka even adorns the solemn space with grown microscopic flowers.
In a lot of different ways, Tatsuya Tanaka is not just an observant of everyday life. He is not a passerby going about his day without a glance at his surroundings or a passive citizen cocooned in his own world. Instead, his eyes, hungry for details and always sharp, soak in the niceties of life, and as a curator and artist of his own observations, he reinterprets them in a calendar as images brimming with tiny objects and figurines.