LEVEL 80 architects` prefabricated modular house perches on stilts, preserving its natural terrain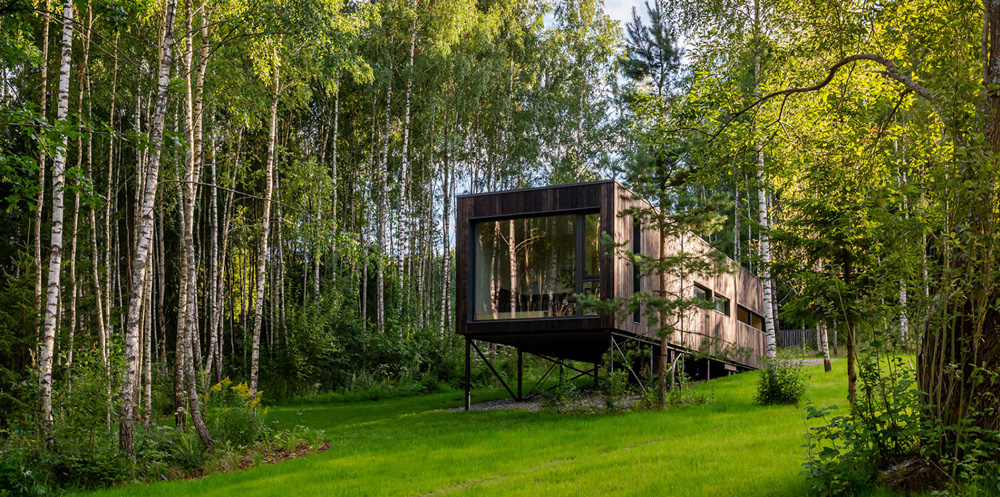 Designboom_ Coexisting with nature, HDN Modular is a pilot project of the NOW-House modular system that rethinks paradigms of contemporary living. Realized by LEVEL 80 Architects, the project advocates for simpler yet elevated living in compact spaces, utilizing prefabricated construction systems and encouraging local production. The cabin, unintrusive to nature, perches atop metal stilts to preserves its natural terrain and minimizes need for extensive earthworks, while providing panoramic views that blur boundaries between indoor and outdoor realms. The architect has further integrated energy-efficient features and crafted a conscious material palette of primarily wood to achieve a synergy between human habitation and the environment. 'Suitable for year-round living it is a sustainable competitor to a cast-in-place house,' notes the team.
HDN Modular addresses the client's primary request for a tranquil, picturesque getaway in the forest, shaped with pain-free construction and minimized costs. LEVEL 80 Architects' cabin design concept maximizes the site's small footprint and comprises two spaces — the house space and covered terrace — utilizing volumetric modules and panelized constructions. The architects approached the living area, a module measuring 4 x 15 x 4h, with pre-made finishes, built-in furniture, and internal utility networks, meanwhile the panelized terrace was assembled off-site. The duration of installing the whole cabin totaled only a week.
The cabin's facade is finished with burnt wood treated using the Japanese Shou Sugi Ban technique while the interior is adorned with plywood across walls, furniture, and doors. Polished concrete screed completes the flooring, and matte black finishes along the fittings evoke a sleek and modern ambiance. Floor-to-ceiling windows ensure both scenic views and energy efficiency.
The cabin itself has a simple yet space-efficient layout with all elements compact and functional — including a kitchen-living space with a full-sized kitchen, a utility zone, a bathroom with a walk-in shower, and a bedroom with a working desk. We designed the warm outline of the house using a wooden frame that is suitable for cold climates. To ensure structural integrity during transportation, the wooden frame is reinforced with steel elements.