Dark tide: baptiste debombourg recreates a magma flow disaster using broken black glass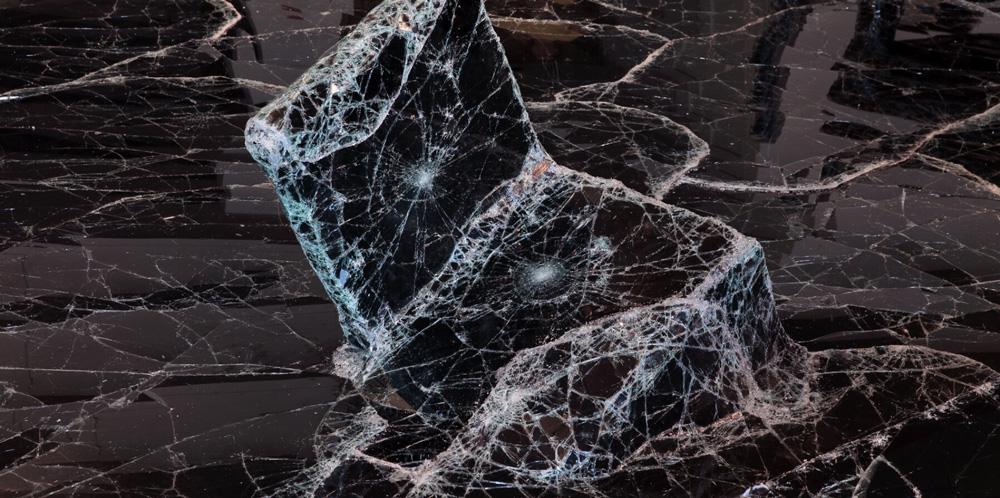 Designboom_ PASSAGES INSOLITES is a public art event that takes place every summer in Quebec, Canada, in the Place Royale, Petit Champlain, and Old Port districts. For its 10th anniversary edition, more than forty artists from the city and abroad invite the public to broaden their perspectives with sensitive and surprising works in public space. Lasting until the end of summer, this latest edition is hosting artist Baptiste Debombourg's site-specific installation dubbed Dark Tide. Seemingly melting into the ground, oozing black broken glass, this peculiar artwork reflects Debombourg's sculptural approach to examining human relationships among people and with the objects that shape their daily lives.
Baptiste Debombourg's site-specific Dark Tide installation takes inspiration from its context — a rehabilitated building where historical relics stand alongside contemporary architectural elements. Taking it one step further, the artist envisions the exhibition space as an open-plan office that has been struck by a natural disaster. 'A gigantic flow of broken black glass has buried everything in its path, like a landslide, volcanic eruption, or tidal wave. Walking on the friable magma is an immersive sensory experience inviting us to question our environmental awareness,' the artist describes. To bring his installation to life, Debombourg combined broken laminated black glass from Vitroplus, black lacquer, nails, wood, medium, silicone, and tape measuring 3,5 x 10 x 9 meters.
Launched on June 9, 2023, and running until October 9, 2023, the 10th edition of PASSAGES INSOLITES encompasses performances, temporary installations like Dark Tide, a mural component, and indoor exhibitions. 'This year's program promises a walk down memory lane, with a 'retrospective route' paying tribute to memorable works from previous years that have marked the city's landscape. Eclectic programming comes with surprises aplenty, including festive artistic encounters,' writes the curatorial team of the event. You can learn more about the program by visiting the event website.