50-meter tapestry of undulating concrete tiles & steel lifebuoys invites reflection in denmark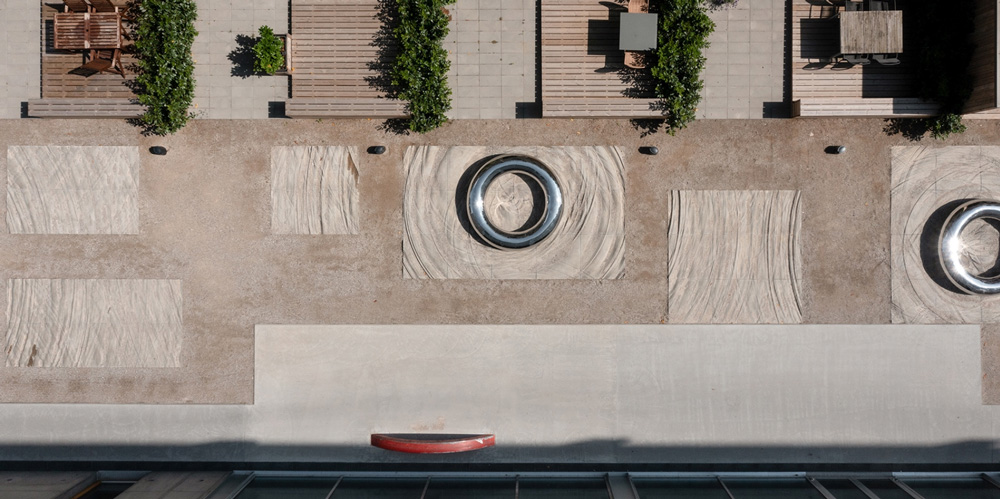 Designboom_ In a narrow alley in the Godsbanen area of Aarhus, Denmark, New Ark unfolds as an artistic journey that encourages reflection on the body, architecture, and our ever-evolving climate. Conceived by Tideland Studio in collaboration with Rumgehør and Stine Rosdahl-Petersen, the installation comprises a 50-meter-long tapestry made of undulating concrete tiles intertwined with polished steel lifebuoys.
In addressing one of the paramount challenges of our time, the New Ark team has centered their efforts around the element of water – a substance with both alluring and destructive properties. As if cascading from the city's rooftops, three lifebuoys lie embedded within the concrete surface, creating ripples as they ebb and flow. Employing digital simulations, the movement of the water has been captured down to each split second.
New Ark stands in close proximity to the Aarhus School of Architecture, a result of collaboration between various architects and artists to transform a nondescript urban passage into a bustling space of high artistic value. The installation captures the essence of water as the waves and splashes become animated in minute detail, providing a fascinating insight into its otherwise ephemeral nature.
The presence of water within this alley serves as a dual-purpose narrative – a solemn warning of rising sea levels and a tribute to the forgotten history of the site, which a century ago was a flooded natural landscape. Today, visitors can rest on the lifebuoys, whose mirror-like surfaces bring the sky down to the street and distort the architecture's stringent lines. Tideland Studio, Rumgehør, and Stine Rosdahl-Petersen have etched rhythmic waves into the tiles to create a dynamic walking experience that prompts passersby to contemplate the intricate interplay between their own bodily rhythm and the timeless cadence of the waves. In this way, the alleys' elongated character is utilized to create a surprising and sensory experience amidst the bustle of the city.