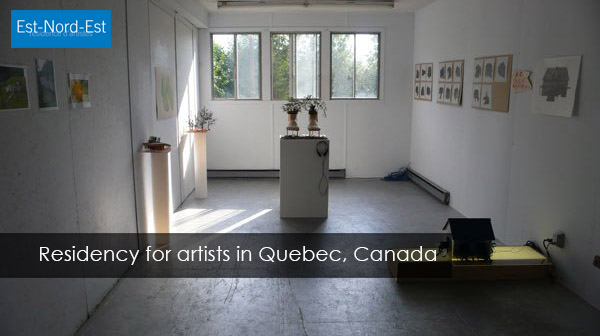 Est-Nord-Est (ENE) is an artist-run centre the mandate of which is to provide an international community of artists and authors in contemporary art with support by offering space and time for research and experimentation, as well as privileged access to local resources and knowhow.
The year 2019 is pivotal in the history of ENE: following the complete reconstruction of the centre's premises on its current site, the year will be one of change as ENE inaugurates its new home.
The centre is situated in Saint-Jean-Port-Joli, a village on the south shore of the St. Lawrence River, in a unique geographic and historical locale. The predominant aspects of the landscapes are farms, forests, and the river. Saint-Jean-Port-Joli is situated 115 km from Quebec City and 350 km from Montreal.
Originally based on the idea of encounters between sculptors with contemporary practices and those using regional traditional skills, ENE now welcomes contemporary visual-arts artists from all disciplines. The residencies at ENE are intended for professional artists, both established and emerging, from all over the world. They offer artists and authors an opportunity to explore their research more deeply, to experiment, and to create in a cultural space that is unique, lively, and stimulating. ENE is a member of Res Artis, Pépinières européennes pour jeunes artistes and of the Regroupement des centres d'artistes autogérés du Québec.
The eight-week residency periods bring together four artists and one author writing about contemporary art and are generally offered in the spring, summer, and fall. However, this year ENE undertook a major capital investment project, as part of which its premises will be completely reconstructed by summer 2019. Due to this major construction project, ENE is cancelling its spring 2019 residency and will offer residencies in the summer and fall. As a consequence, only eight artists and two authors will be selected for ENE's 2019 programming, which will be held in the new building for the first time.
Residency periods:
Summer: July 8 to August 30, 2019
Fall: September 16 to November 8, 2019
The eight-week residency includes:
Residency honorarium of $1,500
Access to an individual studio-workshop to be used for work and lodging
Access to specialized equipment (wood, metal, ceramics)
Access to a documentation centre (books, magazines)
Access to local resources
Technical and logistical support
Use of a bicycle
*Materials, travel fees and other living charges are at the residents' expense.
Deadline: December 1, 2018