The Museum of Loss and Renewal Residency Programme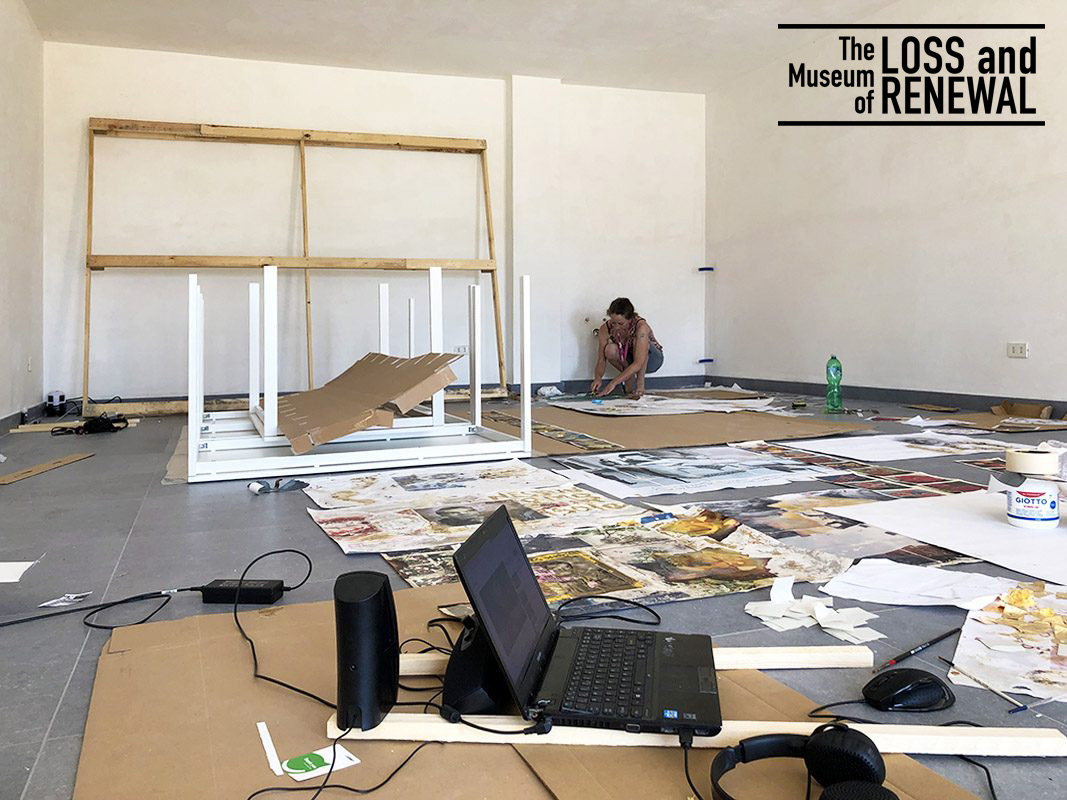 Applications for 2023 are welcomed and considered on a rolling basis. We aim to notify successful applicants within two weeks of receipt of application.

We offer three periods during the summer:
MAY (application deadline has passed)
JULY (application deadline 01 JULY 2023)
AUGUST (application deadline 01 AUGUST 2023)
The TAKING TIME / PRENDENDO TEMPO Individual Residency Programme is designed to support research, study and/or the development of new work.

Applications are open to creative practitioners such as visual artists, film makers, writers, performance artists, curators, designers, musicians, theatre-makers and researchers who work either individually or collaboratively. Individuals and groups are welcomed. Interdisciplinary applications from creatives who work across disciplines are encouraged.

Each individual residency provides uninterrupted periods of time with no expectation of a final outcome. Whether you wish simply to be up close to your practice, allow nature to suffuse your thinking and feeling, produce new work or complete a project The Museum of Loss and Renewal does its utmost to ensure that you can achieve what you set out to do. The impact of what residents do during a period in residence is of benefit to a multitude of communities and contexts across the globe, in what become e.g. exhibitions, publications, curated programmes, learning environments etc.
The Museum of Loss and Renewal supports residents by providing the conditions that are vital to their artistic development: creative freedom, and an uninterrupted period in a caring and curated environment within which to conduct self-directed in-depth focused research and practice.

The Museum of Loss and Renewal offers:

– Local knowledge; specific to the history and current conditions of its environment
– Introductions to relevant local and regional expertise, collections, sites
– A critique of work in progress lead by The Museum of Loss and Renewal's curator/s
– Personal profile on The Museum of Loss and Renewal website
– Social media presence: regular updates during period in residence
FOCAL POINTS, TAKING TIME / PRENDENDO TEMPO Residency Programme

– Time: to produce, reflect, explore, focus
– Individual practice
– International peer-group of fellow residents
– Interdisciplinarity
– Sharing
– No expectation of a final outcome
– Excellent studio / working space
– Excellent accommodation
– Library on site: art, design, architecture, curating, collecting, (art)writing, publishing, walking …
– Natural environment of exceptional significance, accessible from the doorstep
– Local amenities within walking distance
LOCATION

The residency is situated in Collemacchia, a small village within Italy's National Park of Abruzzo, Lazio and Molise, a protected area of exceptional significance and beauty.

The area is sparsely populated by villages that are largely trilingual Italian-French-English due to the large community of emigrants who continually move between European nations, Canada and USA, stemming from economic migration dating from approx. 1850.

The village of Collemacchia has been home to Tracy Mackenna's Italian family for centuries and the curators of The Museum of Loss and Renewal foster strong links with the local community which is highly supportive of the Residency Programmes.

Engagement with the natural world begins on The Museum of Loss and Renewal's doorstep and the mountainous Apennine and Mainarde landscape offers an excellent environment for reflective practice.

The undisturbed and extensive terrain holds a rich and complex history visible in the area's architecture, customs, agricultural lands and forests, all accessible via gentle, ancient pathways. Samnite and Roman habitation is strongly felt in the multitude of archaeological sites throughout the region.
ACCOMMODATION

Residents are accommodated in two comfortable houses situated a couple of minutes walk from each other. Houses have fully equipped kitchens, bathrooms, sitting rooms, and double, twin and single bedrooms (single use bedrooms can be allocated dependent on availability). Central heating and internet throughout. Cleaning is included in cost.
STUDIOS / WORKSPACES

Studio spaces are located in buildings that are situated a couple of minutes walk from each other, and from accommodation. They are recently renovated and include indoor and outdoor making spaces, and desk space. Internet throughout.
FEE AND SUPPORT

The residency fee is €400 per week, per person. The Residency Programme is operated on a non-commercial cost-covering basis, and is financially supported by The Museum of Loss and Renewal in order to keep fees low. We do not have external funding for this project, so regret that we are unable to offer assistance with fees, flights, production costs or other subsistence. Typically, artists source funding by applying to there national arts funding bodies, by personal fundraising, or through academic institutional support. Letters of Invitation can be provided to assist with this process.

A deposit of 50% will be required within three weeks of accepting a place on the residency programme (non-refundable). The remaining balance is payable eight weeks in advance of the residency start date (or earlier depending on period between acceptance and start date). In the event that cancellation is required, residents may cancel up to a minimum of six weeks prior to their residency start date. If a resident has to end the residency early due to personal circumstances, a refund will not be issued.

Residents are responsible for funding and organising their travel, insurances and any visa requirements particular to country of origin. Detailed travel information will be supplied (closest airports Naples, Rome), and collection/drop-off at a local train station / intercity bus stop can be arranged for residents (minimal cost).
HOW TO APPLY

Applicants should email one PDF document containing the following information to curators@themuseumoflossandrenewal.life

– Motivation: about your practice and why you wish to undertake a residency / 250 words max

– Relevance: how the above relates to The Museum of Loss and Renewal's focus / 200 words max

– CV: education, recent work (i.e. exhibitions, performances, writing, publications etc.) / 1 x A4 max

– Link:to your website/online platform, or documentation of visual/textual work (2 x A4 max)

–Studio or desk space:indicate preference

– Residency period: number of weeks (2 weeks minimum); state preferred month/s

– Contact Info: email address, telephone (inc. country/area code)

– Access: include information about any access requirements if applicable

Please title your PDF application doc: FULL NAME_TTRP2023

Applications are considered on a rolling basis

We aim to notify successful applicants within two weeks of receipt of application

Please note that feedback on unsuccessful applications cannot be provided
ELIGIBILITY

– Creative practitioners at any stage of their career
– Creative individuals, duos and partnerships
– Creative practitioners based in any country
– Partners/families and Guests of Residents can be accommodated, space dependent.