Halls Island Artist Residency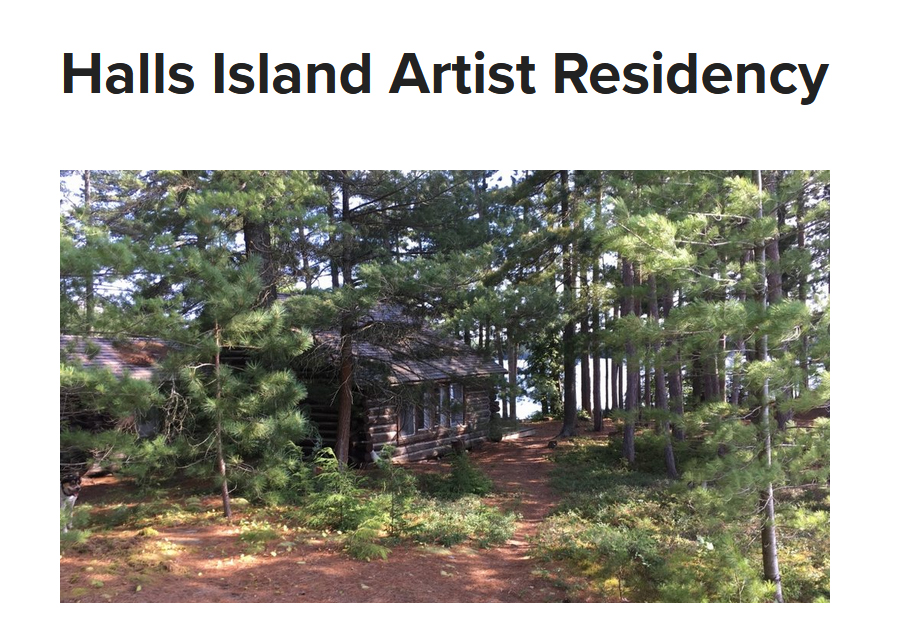 Halls Island Artist Residency is an exciting initiative which provides artists of many disciplines with a peaceful, private, island retreat in the Haliburton Highlands, Ontario.
Applications for the 2023 season will open on November 1, 2022 and close January 15, 2023.
About Halls Island Artist Residency
Halls Island is located on beautiful Koshlong Lake. The boat launch is about a fifteen minute drive from Haliburton Village. The island is a short boat ride or twenty minute paddle from the landing. The island possesses three small cabins; a main cabin with a basic kitchen, dining and living area, and two small sleeper cabins, as well as a nordic-style sauna. Halls Island is without plumbing, using a composting toilet, and relies on solar panels for its minimal power.


Hall Island Artist Residency will strive to welcome artists to this very special part of the world, and encourage them to give back to the Haliburton arts community with a community engagement component of their residency.
Writers, musicians, visual artists, and artists of other disciplines will find inspiration as they engage with nature and pursue their creative endeavors in this idyllic setting. This off-grid, water access location is ideal for quiet reflection and immersion in the natural world.
Artists of all disciplines are encouraged to apply, taking note that off-grid cabin accommodations will not support large scale electronic needs. Interest is being sought from artists in Haliburton County and beyond.
Halls Island is privately owned by a family whose generosity is providing the residency, accommodations and island access for the chosen artists. Halls Island Artist Residency is a member of the Haliburton County Community Cooperative, a not-for-profit organization that encourages, develops and supports several community groups in the Highlands.
There is no accommodation cost to resident artists other than food and personal supplies. Transportation to and from the island will be provided by the Halls Island group while transportation to the docking area will be the responsibility of the chosen artists. Those applying should be comfortable staying alone or with their own small group of compatible artists in this rustic setting.
Halls Island Residency thrives on the contribution of unique and diverse artists. We encourage and welcome applications from artists of any discipline and we will consider all qualified individuals regardless of:
· Age
· Ancestry, colour, race
· Ethnic origin
· Place of origin
· Creed, Religion
· Disability
· Family status
· Marital status
· Gender, gender identity, gender expression
· Sexual orientation
We value equality, diversity and inclusion, both in our artists and our volunteers. We are committed to promoting and maintaining trust and confidence.
The dignity of all individuals is important to us. We will not tolerate or condone any form of discrimination, harassment and/or other inappropriate behaviour, and we will notignore any allegations of such acts brought to our attention.