The Bottega Projects Artist Residency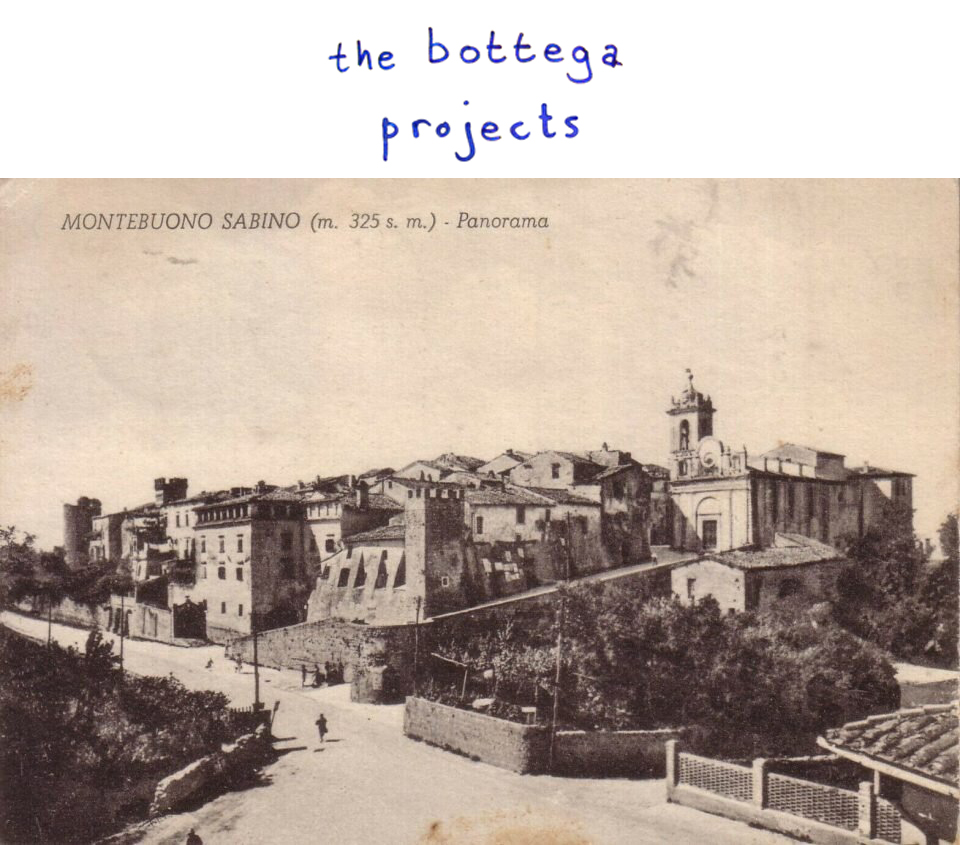 The Residency
The Bottega Projects Artist Residency allows time and space for artists and scholars to continue their research in the town of Montebuono (RI), Italy. The house, built in 1595, is in the center of the small medieval town, a few minutes from a grocery store, pharmacy, bar, restaurant, bank, and post office; and just an hour train ride from Rome. It consists of two bedrooms, kitchen, bath, studio space, and a reading/writing room for individual or collaborative residents. We welcome applicants who can share their expertise in building, construction, organization, or heritage craftsmanship.
Applicants should provide a brief bio, a letter of interest outlining proposed research, CV listing relative exhibitions or publications, and sample work or website. Although we are happy to share with residents about local resources, we encourage applicants to be independent and self-sufficient.
The House
With the intent of renovating the house to become an artist residency, we purchased the it in 2018- with all contents left as is by the former owners. A family had resided there for at least 70 years and we saved a plethora of everyday ephemera. As we cleaned out each drawer and and cupboard, we documented objects and their placement to create a record of the lives spent there. We found unsent love notes, 20 or so wristwatches, countless dishes, clothes, and relics of living in post-World War Italy. Although not much of monetary value was found, the house's contents are rich in the poetics of daily life. Some of these materials are available for inspiration to resident artists upon request.
The house consists of private and shared living quarters for one to six people with a shared bathroom, studio, a kitchen with common room and fireplace, as well as a library/reading room. Built in 1595 as part of the adjacent church rectory, it still has its original ceilings. It is on two floors with two street level cantinas.
First floor: an individual or shared bedroom with balcony, bathroom, and library/writing room. Second floor: main common space and kitchen, sofa, TV, and a bedroom/studio.
The renovation and interior design incorporates a respectful nod to the cultural history of the house and town as well as showcasing our personal style with contemporary conveniences. Continuing renovations will continue this mindset of marrying the past and the present while allowing residents to collaborate when possible.
The Town
The house is in center of the medieval town of Montebuono, in the Sabina countryside, an hour north of Rome. The town has a restaurant, bar, supermarket, pharmacy, butcher, hardware store, ATM, and post office, all within a two-minute walk from the house. There are daily buses to and from the nearby train station (Stimigliano), where guests have easy access to Rome (50 min) and Fiumicino airport (90 min). Near the site of the Roman villa of Agrippa, now San Pietro Muricentum, the small hamlet was fortified in the 11th century. More recently, the mountain of San Benedetto was a place a refuge for escaped American prisoners of the Second World War, where they were executed by a German militia in 1944. There is a monument to their memory. The town is surrounded by oak and elm forests, olive groves and vineyards, all within walking distance, providing the ideal combination of isolation and connectedness, engagement and contemplation.
The Sabina
The area along the Tiber valley north of Rome is called the Sabina. It has a rich cultural heritage since antiquity, with several Roman villas, through the late medieval era. It consists of many fortified hamlets surrounded by wild and cultivated land. It has many examples of 13-15th century fresco painting, at San Pietro in Montebuono, at the Roman market site of Santa Maria del Vescovìo, and other churches in nearby hill towns of Casperia, Roccantica, and Poggio Mirteto, that demonstrate a hybrid style between Rome and Assisi, Orvieto, and Siena. The region is known historically and still today for its D.O.P. extra virgin olive oil. The close vicinity to Rome makes day trips easy even without a car. With a car, Florence, Siena, Assisi, Naples are all two hours away. Much closer are the smaller towns like Narni, abbeys like Farfa, and archeological sites like Tarquinia.
Workshops
While residents are encouraged to be self-sufficient, we also can conduct a range of activities based on local historical, culinary, and artistic culture. Site visits to churches, cooking classes, cheese-making, wine and olive oil tastings, landscape painting, fresco painting, and pigment making workshops can be organized to familiarize residents with local traditions. (These à la carte activities are separate from the general residency cost.)
Costs
$550/week per single artist, $450/week shared, $1650 for 3 or 4 week residency.
Expenses paid by the artist:Travel, Production costs, Food, Supplies.
*Housing utility costs paid by residency. Sheets and towels provided by residency.