Painting reattributed to Gainsborough after six decades labelled unknown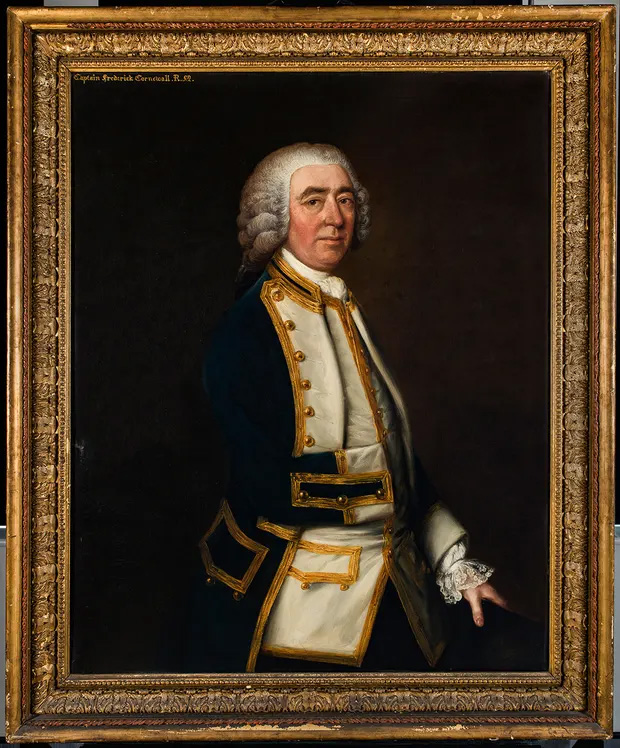 Theguardian_ After being consigned to dark storage rooms for up to six decades as the work of an unknown artist, a portrait of a one-armed naval veteran has been reattributed to the celebrated 18th century painter Thomas Gainsborough.
A fundraising drive has been launched to raise £60,000 for extensive conservation work on the painting and its frame before it is hung in the Queen's House, part of Royal Museums Greenwich (RMG), next year.
The unsigned portrait of Captain Frederick Cornewall was bequeathed to RMG by the art collector Edward Peter Jones in 1960. Although it was attributed to Gainsborough, RMG's curator at the time was not convinced.
"In his notes, he said that although there was an affinity with Gainsborough, the painting was too coarse to be his work," said Katherine Gazzard, RMG's curator today. She believes the painting was immediately put into storage, although RMG's digital records only go back 30 years.
Last year the art historian Hugh Belsey, an authority on Gainsborough who had been trying to trace the portrait, discovered it had been bequeathed to RMG. He asked to see it.
"His request landed on my desk. We got the painting out of storage. Everything stacked up: it had all the visual hallmarks of Gainsborough's style in this period," said Gazzard.
The misattribution was "a cautionary tale", she added. "It's a reminder to take care over our judgments, to be rigorous. But we're excited rather than embarrassed."
Belsey said he was "delighted that this splendid portrait is now identified as a fine early work by Gainsborough". He dated the painting to about 1762 when Gainsborough was working in Bath.
The artist's work was "developing at a very fast pace and as he attracted more commissions his style became more assured and his brushstroke freer", said Belsey.
It was extraordinary that the curator had not checked the painting with Gainsborough experts before dismissing it, said Belsey. "But I'm just very pleased it's been re-found."
The painting needs urgent work. "It appears in good condition but it's very fragile," said Miranda Brain, RMG's painting conservation manager.
"The paint is actively flaking – partly due to Gainsborough's technique, but also because of its age. After such a long time in storage, there is a layer of surface dust which needs careful removal.
"A layer of varnish has cast a yellow tone over the painting. Removing that will reveal its true colours, but we need to ensure the paint layers beneath aren't damaged in the process. Then we can look at the stability of the canvas."
The frame was also unstable, flaking, dirty and with losses to the decorative surface, Brain said. Conservation on the painting would take an estimated 125 hours, with a similar amount of time needed to work on the frame.
"Every moment in conservation has a bit of a scare to it, but removal of the varnish is probably the scariest moment," she said. Gainsborough was one of her favourite artists and she felt "a bit goosebumpy" to be working on one of his paintings.
The portrait had a "quiet dignity – no showiness, no flashiness", said Gazzard. "At first glance it looks simple, but the more you look, the more there is to see, such as a tiny loop attaching the captain's empty sleeve to a button."
Gainsborough portrays Cornewall as a courageous fighter, highlighting his missing arm, which was amputated after the Battle of Toulon in 1744.
It was "thrilling to be able to rescue this lost masterpiece from obscurity", Gazzard said. "Those of us lucky enough to see the portrait in the museum stores knew it was something special, but it was only with Hugh's help that we were able to piece together the full story."