Long-Lost Arshile Gorky Portrait of Artist Anna Walinska Turns Up in Rhode Island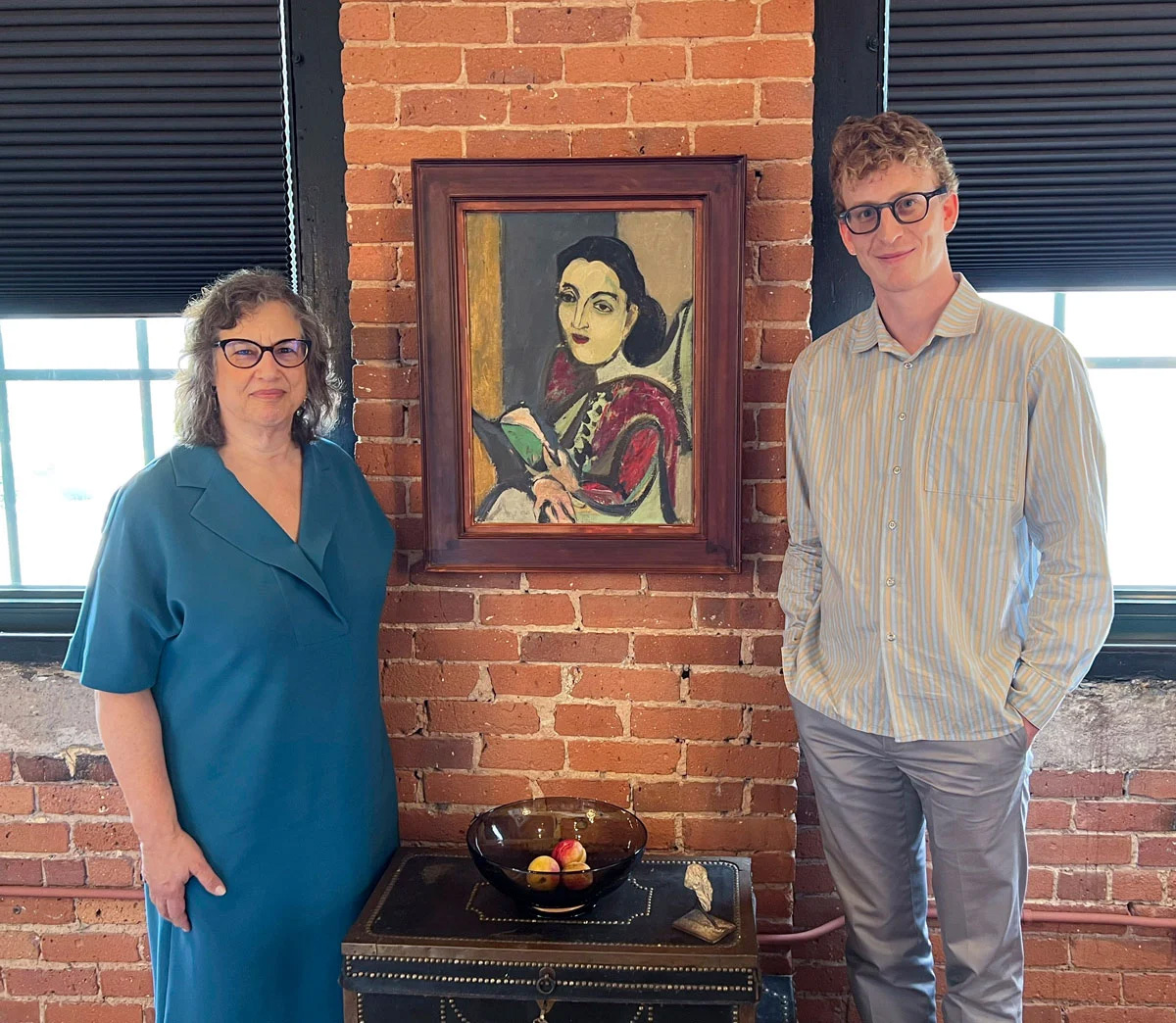 Arshile Gorky's rediscovered Portrait of Anna Walinska (ca. 1937), photographed in the anonymous collector's home with Rosina Rubin, Walinska's niece, (left) and Gorky Foundation director Parker Field
Artnews_ Rosina Rubin has habitually imagined where Arshile Gorky's 1937 portrait of her aunt, artist Anna Walinska, ended up. Perhaps the canvas wound up in Europe after Walinska begrudgingly sold it in the 1970s. New York, where Walinska was based from the 1930s until her death in 1997, or anywhere on the East Coast seemed even less likely, according to modern art experts who might have a lead, Rubin said.
"It seemed like it was somewhere out there in the vast universe—far, far away," lamented Rubin, founder of Atelier Anna Walinska which documents and promotes exhibitions of the modernist paintings, collages, and drawings created by her aunt. With the hope that someone online might recognize the painting of the artist reading a book, Rubin even made it her profile picture on Instagram. After more than a decade, the search led nowhere, and she lost hope.
Then in early 2020, Rubin teamed up with the Arshile Gorky Foundation, which was about to launch a digital catalogue raisonné for the Armenian American artist known for creating energetic abstract paintings. At the time, the whereabouts of around 170 Gorky artworks were unknown, and finding the Walinska portrait was a priority, especially because Walinska was also a gallerist who gave Gorky his first New York show in 1935. The foundation made a "HAVE YOU SEEN THIS PAINTING?" ad for the work using a faded slide kept in Walinska's records, and began circulating the flyer at art fairs, with the hope that new leads would lead to its rediscovery.
Despite the pandemic bringing art fairs to a screeching halt, Rubin decided to keep momentum going by creating an email newsletter about the portrait, a charming surprise that landed in my inbox during lockdown. I contacted Rubin to learn more about the story of this long-lost Gorky portrait of Walinska, which resulted in an article, published by Hyperallergic, that brought renewed interest in Walinska, especially for people previously unfamiliar with the artist, who studied modernism in Paris before returning to New York and creating expressive abstract canvases.
Still, a month went by, then a year. Two years and nothing. "It felt like, okay, we're just not going to find it," Rubin said in a recent interview. "Nobody saw it. Or if somebody saw it, they just don't want us to know—and that's it."
But that wasn't it. A few months ago, the owner of the painting, who wishes to remain anonymous, contacted the Gorky Foundation. The foundation's director, Parker Field, called Rubin right away. "You found the painting," she recalled having guessed when she answered the phone; Field replied, "The painting found us."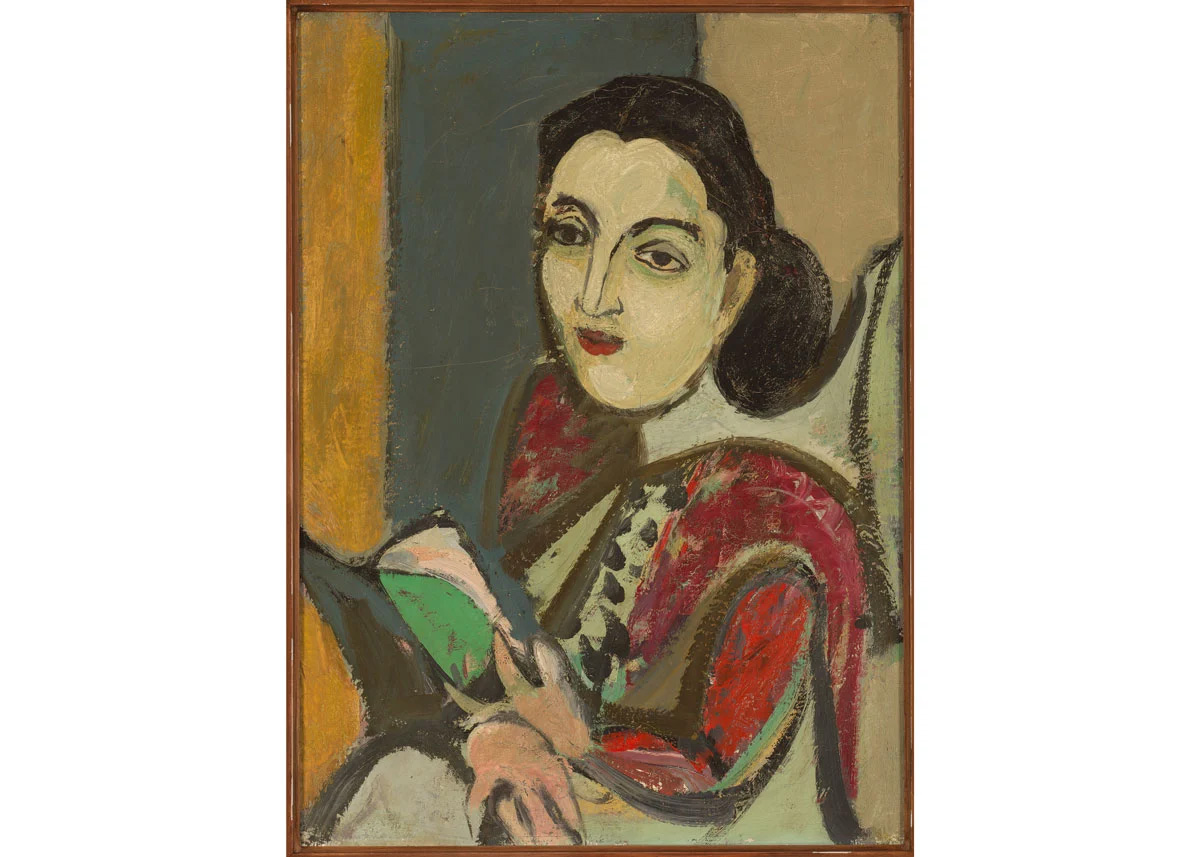 Arshile Gorky, Portrait of Anna Walinska, ca. 1937
Ensconced not in Europe but on the East Coast, the portrait belongs to a 94-year-old collector who bought it from a New York gallery in 1986 and now lives in a converted 19th-century knife factory in Rhode Island. The collector's neighbor read the 2020 article, recognized the portrait, and rushed to tell her.
Unsure what would happen if she came forward, the collector remained silent for over a year. "I told my accountant: 'When I'm gone, call this person up and tell her where the painting is, and tell her it's at the museum at RISD,'" she said in an interview, noting her plan to bequeath the portrait to the Rhode Island School of Design's museum. Earlier this year, she decided she had to let Rubin and the Gorky Foundation see the painting. At last, Rubin and Field saw the painting in person in late May.
The collector had bought the painting without much background information. "I just loved it," she said about the canvas that Gorky created during a prolific figurative period when he produced portraits of family, friends, models, and himself. After the collector bought a book about Gorky and read up on his relationship with Walinska, the portrait took on different meaning. "She became more real to me in terms of who she was for him, who she was for herself. How gutsy a woman she was for her time," she said about how Walinska opened the short-lived, avant-garde Guild Gallery, and fervently pursued painting herself. "I could identify with her. That was a time that we both lived, and I'm still doing exactly what I want to do."
One thing Walinska didn't want to do was sell the painting. Most of her walls were lined with her own artwork, but the Gorky proudly hung in her foyer. "When [Walinska] talked about Gorky, Gorky was a genius. She loved having that painting," Rubin said. "It had pride of place—both physically in her apartment, and in her heart." But as the Upper West Side increasingly went co-op in the early 1980s, including the building she'd lived in for decades, Walinska needed funds and sold artworks from her collection. Her family lost track of it after that.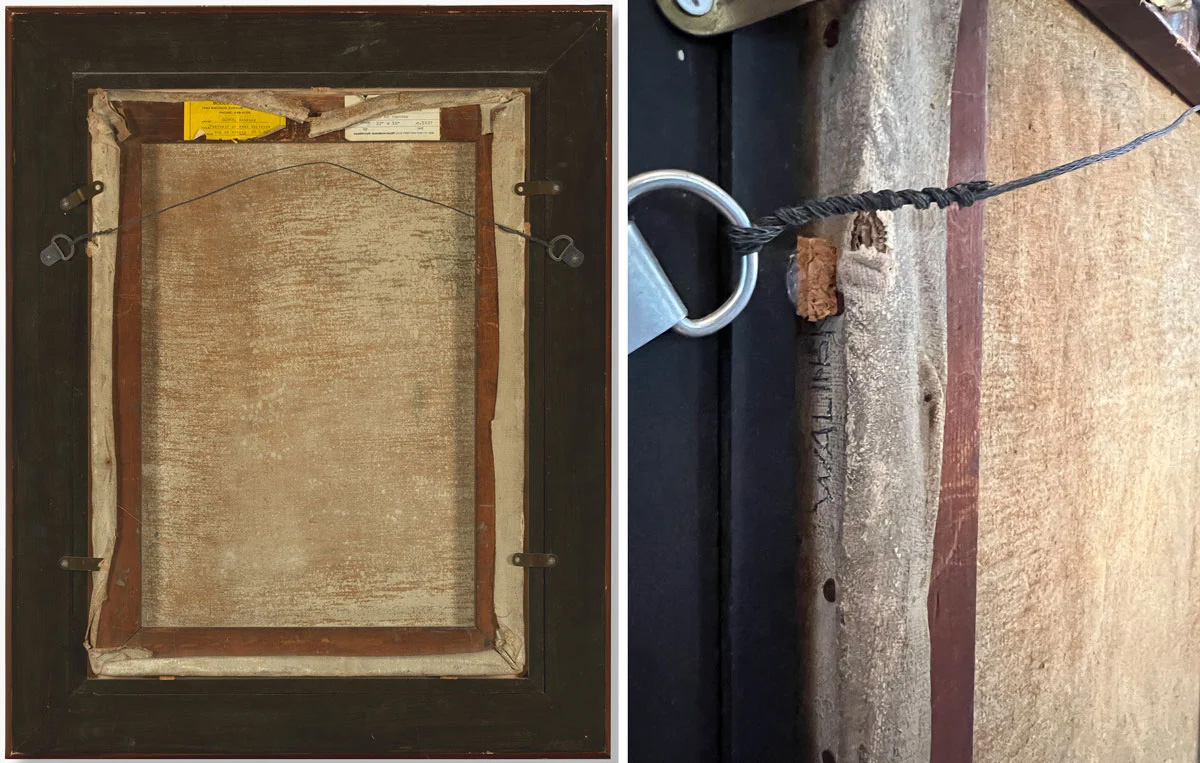 At left, the reverse of Gorky's Portrait of Anna Walinska (ca. 1937), and at right the painting's right tacking edge, with "WALINSKA" inscribed on it
The artist's family did hold onto the one other Gorky portrait of Walinska, though—a pencil drawing on the back of a menu from the Lower East Side's Russian Art Restaurant. It was exhibited this year for the first time at New York's Graham Shay 1857 gallery as part of a Walinska solo exhibition titled "Calligraphy of Line: The Drawings of Anna Walinska," installed alongside Walinska's drawing of Gorky as a pendant.
This drawn portrait of Walinska was also published for the first time with the launch of the digital Gorky catalogue raisonné in November 2021. In the less than two years since its release, the catalogue has helped over 40 works by the artist resurface—a mix of ones listed as "whereabouts unknown" at the time of publication and some entirely new to the foundation. The painted Walinska portrait is a highlight among other exciting rediscoveries, such as an ink and graphite drawing titled Nighttime, Enigma, and Nostalgia(1931) that was only known from an early photograph of Gorky in his studio.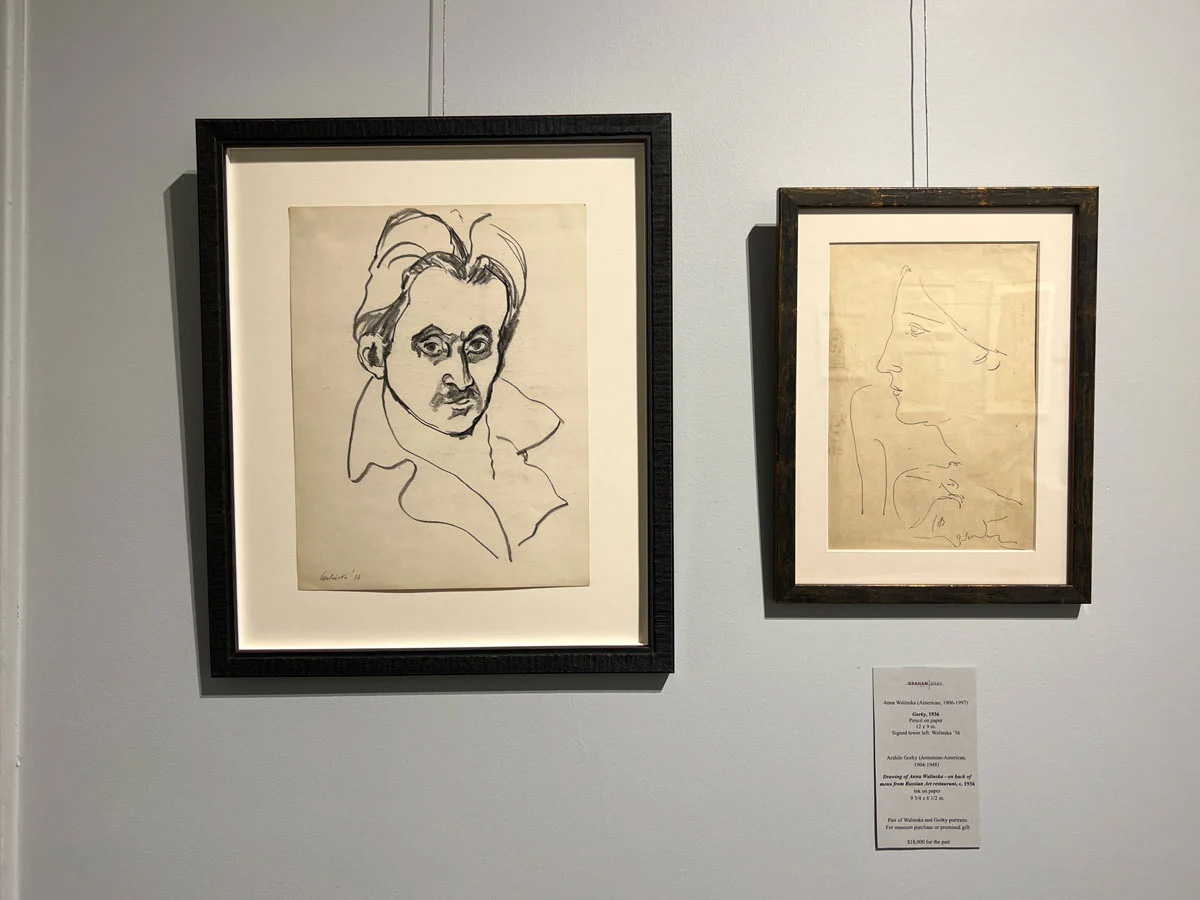 Anna Walinska's Portrait of Arshile Gorky (1936) and Arshile Gorky's Portrait of Anna Walinska (ca. 1935), were exhibited in "Calligraphy of Line: The Drawings of Anna Walinska (1906–1977)," 2023, at Graham Shay 1857, New York
Field believes that digital catalogues raisonné help works resurface more easily, a reason the foundation opted for it over print one. "We expected an increase in correspondence post-publication through what we knew from the experiences of other online catalogues raisonné," Field said. "And more logically, if you're doing an online catalogue raisonné you have more readers, more viewers, than you do with a print catalogue. If you have more readers, then you have more attention."
That still leaves, however, at least 141 Gorky paintings unaccounted for, including another one of a fellow artist, Portrait of George Yphantis(1926–27), of the Turkish-born painter and friend of Gorky's who later taught in the fine art department of Montana State University. Painted after a visit to the Boston area, Gorky gifted it directly to Yphantis; it hasn't been exhibited or heard of since. A rediscovery such as this one will fill in gaps in Gorky's oeuvre and add to a fuller understanding of his work.
"Because of its wider accessibility, a digital catalogue raisonné can raise public awareness about missing artworks and encourage individuals to come forward with relevant information," said Alexandra Kaiser, managing director of the Catalogue Raisonné Scholars Association and research curator of the Archipenko Foundation. "While digital catalogues raisonnés offer powerful tools, finding missing artworks can still be a complex and challenging task. It often requires diligent research, collaboration, and a bit of luck."