L&L Holding Company unveils massive drawing by acclaimed artist Sol LeWitt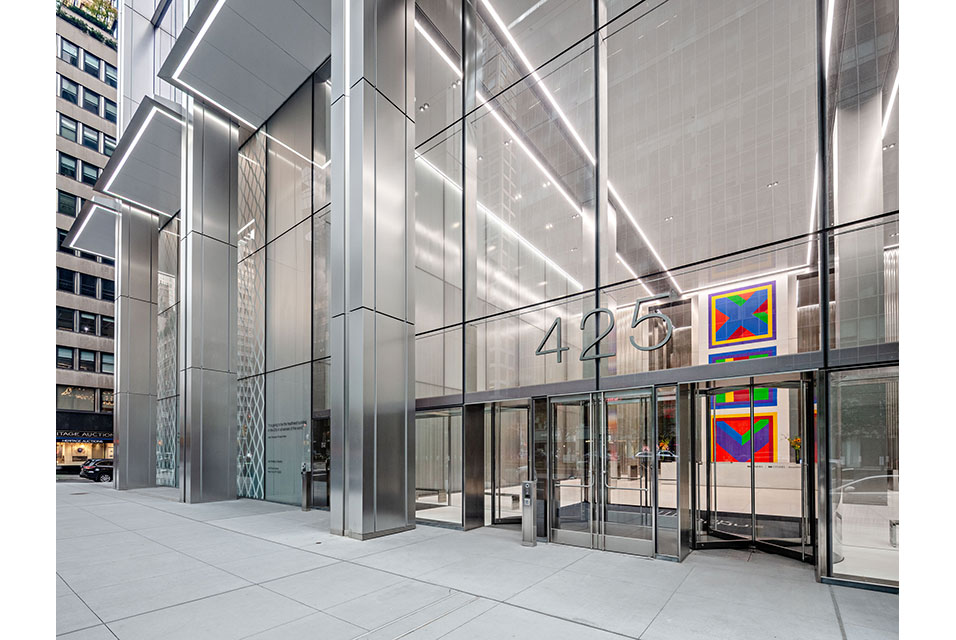 Artdaily_ L&L Holding Company has unveiled an eye-catching, oversized drawing by famed American artist Sol LeWitt, which now adorns a prominent central wall in the triple-height lobby of 425 Park Avenue, L&L's art-filled Plaza District office tower.

The original artwork, titled "Bars of Color within Squares," features geometric configurations, vibrant colors and isometric perspectives that create a sense of volume, making it appear to pop from the wall. At 39 feet tall by 13 feet wide, the massive piece is easily visible to all passersby on Park Avenue. L&L in collaboration with Lord Norman Foster worked with Peter Cooper Gallery to procure the artwork. The installation was handled by dedicated artists and craftspeople from LeWitt's estate, who adhered strictly to specifications left by LeWitt prior to his passing in 2007.

To further pay homage to LeWitt, L&L partnered with Sensory Interactive to curate a digital tribute to illuminate the three ornamental fins perched atop the 897-foot tower. The display draws inspiration from the geometric shapes and an array of colors associated with LeWitt's work, as well as by 425 Park's signature diagrid design, creating an elegant marker on the Midtown skyline.
"From the outset, art and design have been integral elements in shaping the experience of 425 Park Avenue," said L&L Chairman and CEO David W. Levinson. "A visionary in every sense of the word, we were drawn to Sol LeWitt for the dramatic effect that his artwork has on the places and people that surround them. With this prominent and permanent new home at 425 Park Avenue, LeWitt's work will serve to inspire building occupants and captivate passersby for decades to come."

L&L has woven art throughout the Lord Norman Foster-designed tower. The Diagrid Club, 425 Park's ultimate amenity and wellness center, features an immersive installation by Japanese avant-garde sculptor, painter and novelist, Yayoi Kusama. "Narcissus Garden," which was first shown on the lawn outside the Italian Pavilion at the 33rd Venice Biennale in 1966, consists of more than 400 spheres with highly-polished, reflective and mirrored surfaces that present moments of both movement and stillness.

At the base of the tower, L&L is working with world-renowned chef and restaurateur Jean-Georges Vongerichten to conceive and operate a new restaurant named Four Twenty Five. The restaurant's cocktail lounge will feature a 24-foot painting by celebrated abstract artist Larry Poons titled "Hunch."

Completed by L&L in 2022, 425 Park Avenue is the first full-block office development to open on the world's most famous commercial boulevard in half a century. At street level, 425 Park boasts a 45-foot tall grand lobby accented by stone flooring, interior glass walls, modern lighting and state-of-the-art elevator systems. The structural expression of 425 Park gives it a unique identity that features a vast expanse of column-free space and soaring glass that allows natural light to flood its workspaces.