monkeybird paints huge gothic futuristic murals featuring elaborate symbolism
designboom-monkeybird is an anonymous duo of french contemporary artists who create large-scale murals that feature elaborate symbolism and mythical creatures. depicted in black-and-white cross-contour lines with golden accents, their mission is to transcribe social themes into the exterior walls of museums and other institutions.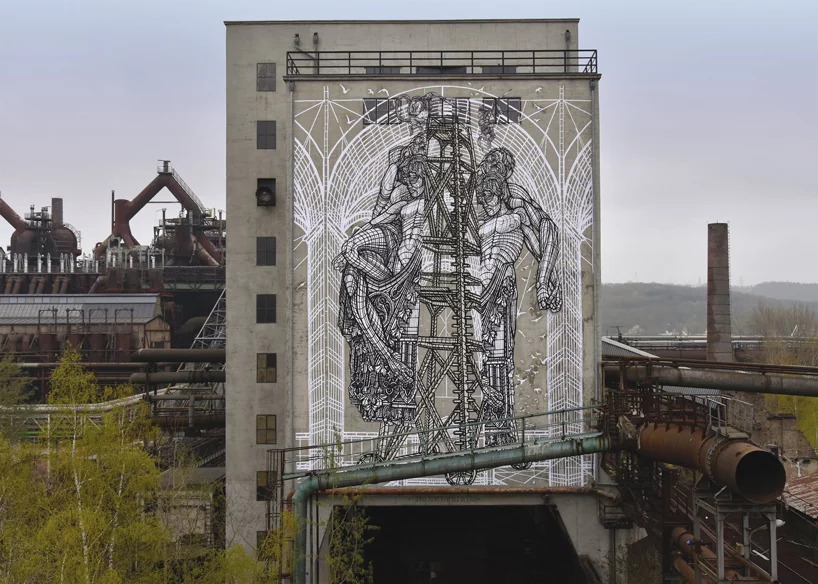 monkeybird are inspired by ephemeral monumentality, religious paintings and the art nouveau. the murals incorporate old-world details like classical architecture, hourglasses and weight scales, which together create dream-like images. animal totems take inspiration from sacred works like illuminations and stained glass.

the duo consists of blow the bird and temor the monkey, which represent 'the two faces of humankind, the monkey being the realist, and the bird being a dreamer,' according to paris-based 5art gallery. they develop their work by using many types of mediums including stencil, collages, spray painting, and engraving. members of the crew have BTS in graphic design, BTS in object design and MA in industrial design.
monkeybird are based in bordeaux, france, but travel across the globe to create outdoor murals as well as indoor installations. the anonymous duo will be working in moscow from october 2 to the 11th. you can see more of monkeybird's projects on instagram, and pick up a limited edition print from their online store.