takesada matsutani exhibits his "gutai" material experimentations at HAUSER & WIRTH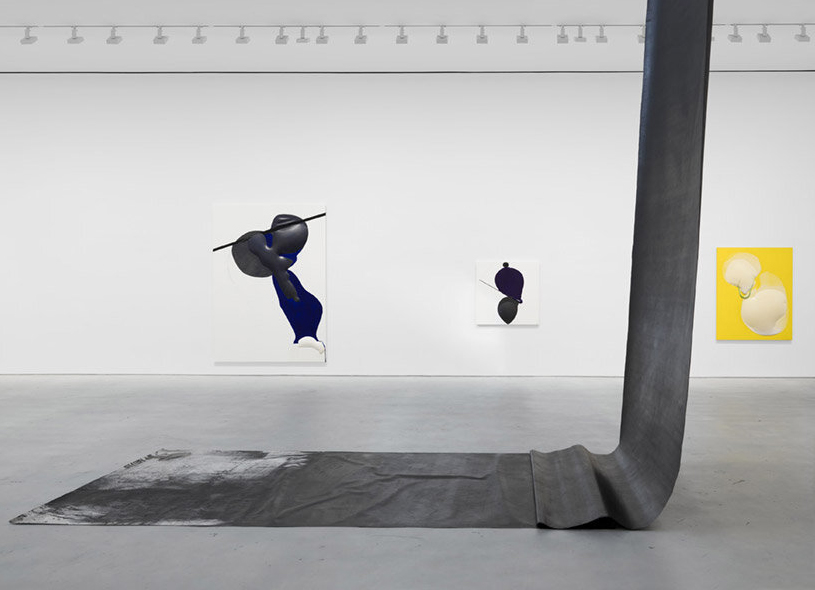 Designboom_ today, february 3rd 2022, HAUSER & WIRTH opens combine, a massive collection of large-scale works by takesada matsutani. osaka-born, paris-based artist takesada matsutani has developed his own distinct visual language, uniting organic materials and avant-garde aesthetics, for more than six decades.
the exhibition features large-scale works including canvases turned bulbous with vibrant, air-blown acrylic glue — all surrounding a central canvas which hangs from the skylight. this central work measures thirty meters (100 feet) in length, and is meticulously rendered nearly entirely black with hand-penciled graphite.
previewing the show at HAUSER & WIRTH's new york gallery, matsutani elaborates on his process of making the massive graphite-covered work to designboom: 'I filled the sheet with pencil, a few centimeters a day. the whole piece took around a month to complete. the other side is covered in graphite mixed with glue.'
features new three-dimensional paintings, combine is organized with olivier renaud- clément, and marks takesada matsutani's first exhibition in new york since 2015. presented on the fifth floor of HAUSER & WIRTH's 22nd street location, the artist's most recent large-scale works bring together the bulbous, surreal and suggestive forms created from vinyl glue that he began to experiment with in the early 1960s, when he was one of the youngest members of the radical japanese avant-garde art collective gutai, with the clearly defined shapes, lines, and vivid colors that appeared in his work from the 1970s.
a selection of his earlier works are included in the exhibition, so that visitors might trace the evolution of the artist's meditative and methodical practice, which remains loyal to the philosophy of gutai.
now showing at HAUSER & WIRTH, takesada matsutani's work is defined by his experimentation with unexpected materials and unusual techniques in pursuit of highly original visual effects. inspired by the plastic quality of vinyl glue, the artist began working with this material in 1961 — when it first became widely available in japan – and has gone on to master it, transforming this commonplace substance into something magical that straddles the line between painting and sculpture.
by applying the glue to canvas, letting it partially dry to form a skin and then manipulating it with air blown through a straw, or with hairdryers and fans, matsutani brings the material to life — a principle central to gutai. in some works, he has left swollen convex shapes, while in others he has allowed the glue to rupture and wrinkle, exploring the wide range of possible forms and tactile qualities of the substance.
the works on view in combine merge this method with key elements found in other bodies of matsutani's work — graphite, acrylic paint, and found objects. in 1966, matsutani moved to paris and began working at stanley william hayter's renowned printmaking studio, atelier 17, where he dedicated himself to the practice of engraving. a couple of years later, he started exploring the possibilities of silkscreen and became open to a new kind of artistic experimentation.
his paintings began to take on a geometric nature, featuring blocks of bright color and sharp lines that evoked hard-edged geometric abstraction. by the 1970s, matsutani was compelled to simplify his practice and turned almost exclusively to graphite pencil and paper. it was then that he discovered the many surfaces that could emerge from an accumulation of repeated individual strokes and the power of black and white.