ronan bouroullec elaborately carves clay for "bas-reliefs" solo exhibition at galerie kreo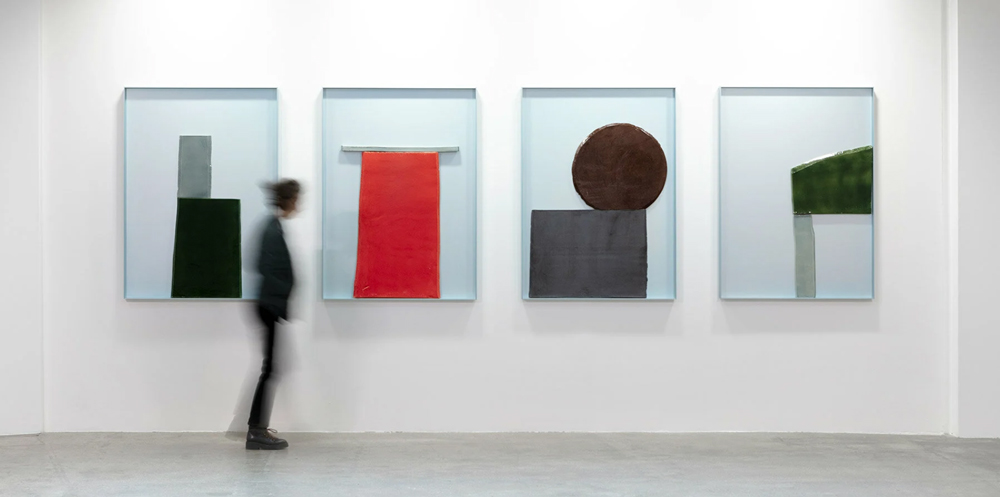 Designboom_ Bouroullec's ceramic bas-reliefs will be on view in a solo exhibition at Galerie kreo, from 17 November 2022 to 7 January 2023. Somewhere at the intersection between painting, sculpture, and design, the artworks indulge in Bouroullec's indistinct language, which is both poetic and unique. Utilizing a knife, the Paris-based artist elaborately carves the thick slab body of clay and models the desired forms, which will then be placed in the furnace and evolve into a transformed appearance.
Both visual and tactile, the result sees abstract soft silhouettes emerging as caressing gestures, inviting visitors to observe and touch at the same time. In the finished works, the ceramic engages in a feeling of paperiness, with its abstract shapes interacting on a shiny monochromatic plane. This feeling is created due to the glazed ceramic forms marked with cracks, bubbles, and the traces of tools that come in juxtaposition with the flatness and sharpness of the synthetic surface on which they are placed.
The way the pieces dissolve onto a background feels digital and also deeply analogue. Appearing as living bodies, the compositions speak their own language, taking shape as 'masses of ceramic breathing in a metal atmosphere, on a planet that is strange but inviting,' as Galerie kreo mentions in the official press release of the exhibition. Like other languages, Bouroullec's seems to have its own rules. The forms are involved in repetition, and the palette is consistent, like a dialect, and even in the slight variations, the works obey his 'grammar'.
'We could look at Ronan Bouroullec's ceramic bas-reliefs and see traces of a language we recognize: the silhouettes offamiliar objects, the contours of known landscapes. We might be tempted to look at the work as an alphabet of mere things, think of the pieces "objectively." But as tableaux, the reliefs are not quite right: one has an edge that goes too far, another a circle that's off-center and about to roll, and still another, a pinkish mass that could topple over,'shares Galerie kreo.
Some compositions get repeated and flipped upside down.'Bouroullec's process is also inherently syntactical: while the finished works have the appearance of precise composition, they're arranged ex post facto from separately formed elements'. Bouroullec forms the reliefs just after the individual elements are fired. Some unavoidably break in the kiln.'Like sentences, Bouroullec's compositions are sequences of fixed parts. Like poetry, they're subject to randomness,'Galerie kreo mentions.