chiharu shiota weaves her immersive webbing through new york`s galerie templon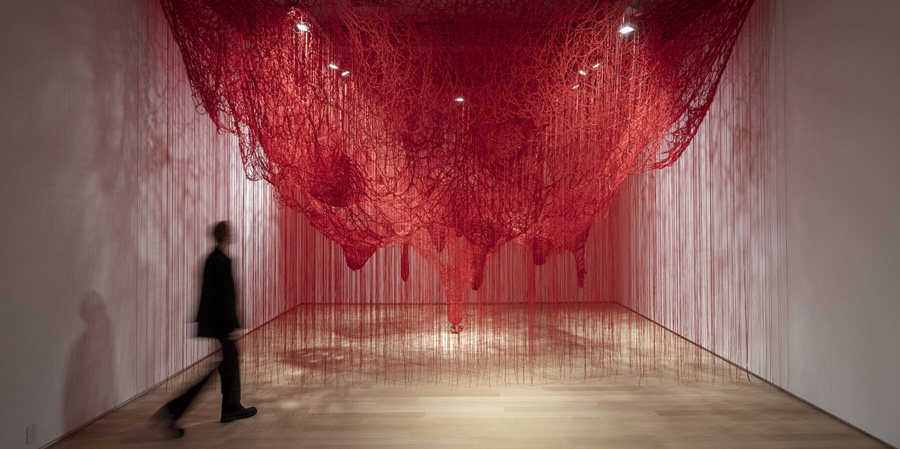 Designboom_ Following nearly a decade's absence from the New York contemporary art scene, Japanese artist Chiharu Shiota returns with her new Galerie Templon exhibition 'Signs of Life.' The immersive show includes a unique site-specific installation and never-before-seen sculptures and drawings.
Chiharu Shiota is well-known for her stunning site-specific installations that skillfully blend together knotted threads, window frames, a piano, suitcases, books and used clothes. These ephemeral, immersive pieces are developed from both sculpture and drawing, and have become her signature. Since her memorable showing at the Japanese Pavilion at the 2015 Venice Bienniale, she has rightfully earned her place as an influential figure in the global art world, and has been invited to exhibit in numerous museums around the world.
Chiharu Shiota's exhibition 'Signs of Life' at New York's Galerie Templon questions the concept of the 'web,' a living thing much like the structures composing the universe or the neurons of our brains. Across two weeks, a large-scale installation of red threads — representing the perpetual link of data, collective remembrance, and knowledge which transcends countries and borders — was assembled together on-site.
The artist's own two arms, cast in bronze, are at the core of the work. Facing up to the sky, they lie on the ground. 'I always thought that if death took my body, I wouldn't exist anymore,' she explains. 'I'm now convinced that my spirit will continue to exist because there is more to me than a body. My consciousness is connected to everything around me and my art unfolds by way of people's memory.'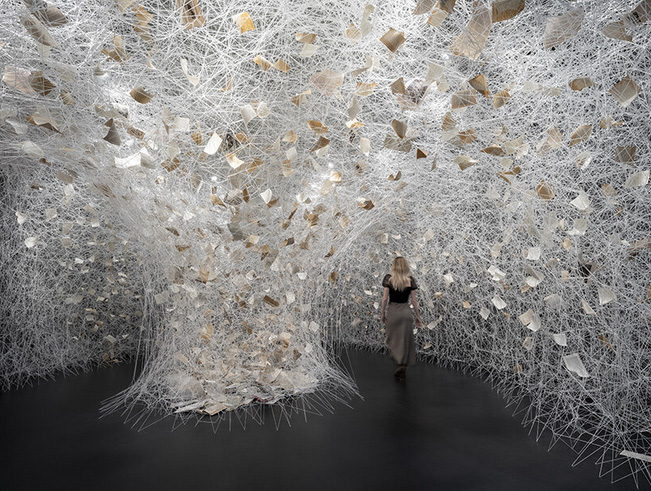 Following the large-scale installation, Galerie Templon displays a number of sculptures which showcase Chiharu Shiota's work across a range of scale. Suspended within coiled threads, objects of daily emerge as if frozen in time. 'I feel that the objects we possess are like a third skin,' she continues. 'We accumulate these things and transpose our presence and our memory to them.' Oftentimes out of date and saturated with unknowable histories, these items — aged suitcases, stained dolls, miniature furniture, and tiny bottles — demonstrate the gifts of remembrance, which can be viewed but not touched.