damien hirst`s latest venture allows collectors to create their own "spin painting" NFTs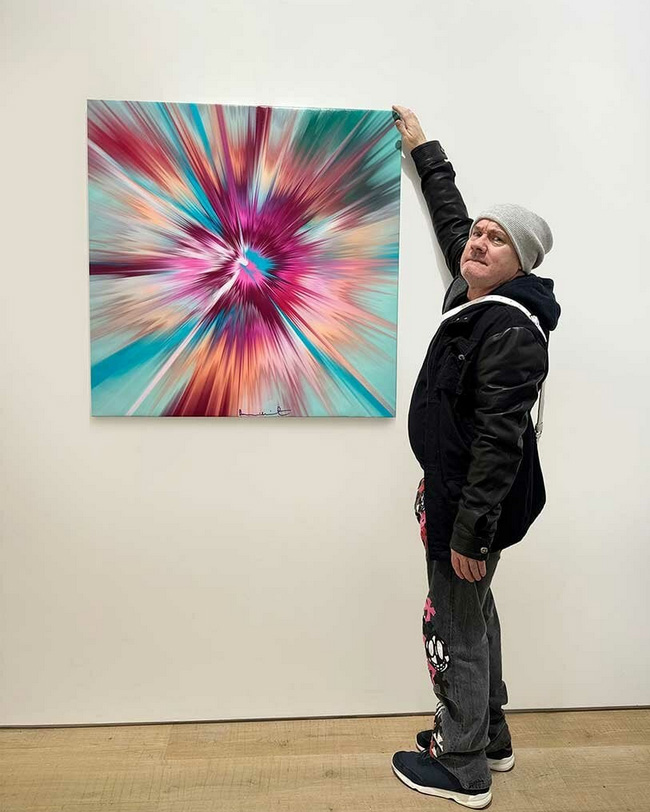 Designboom_ Damien Hirst has collaborated with international art services company HENI to present his latest project, 'The Beautiful Paintings,' which blurs the lines between digital and physical art through the use of generative and machine learning algorithms. Based on the British artist's iconic 'Spin Paintings' known for their energetic splashes of color, 'The Beautiful Paintings' allows collectors to access an online dashboard where they can choose their combination of colors, styles, shapes, sizes, and mediums to create unique pieces as physical paintings, NFTs or both.
To create your own 'Beautiful Painting', you need to go to HENI's website and find the creative dashboard which offers a choice of 252 colors, all titled with the help of machine learning — a minimum of two and a maximum of 12 colors can be selected. After selecting the colors, you get a choice of 25 styles, each a different spin image, accompanied by dynamic titles such as 'Vortex,' 'Explosion,' or 'Galaxy.' Once you've made all these choices, you can select whether you want the work to be circular or rectangular, pick one of the four available sizes, and then click on 'Generate'. The platform also allows you to customize the title of your artwork by selecting a combination of the suggested keywords.
The work can be purchased as an NFT, a physical painting printed on canvas, or both. If you choose to purchase both a digital and physical version, this is the only way that two versions of the generated image can exist simultaneously. Each artwork in the series is unique and is hand signed on the front by Damien Hirst in a paint pen. The Beautiful Paintings are only available for a limited time from March 31 to April 10, 2023.