10 Standout Artists at the 14th Gwangju Biennale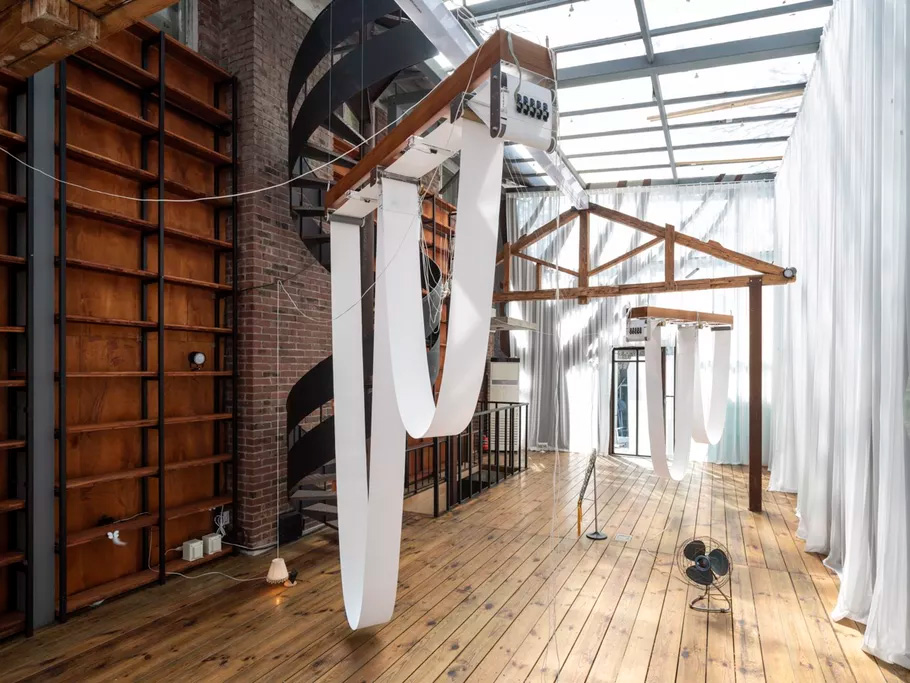 Yuko Mohri, installation view ofI/O, 2011–23, in "soft and weak like water" at the 14th Gwangju Biennale, 2023. Courtesy of the Gwangju Biennale Foundation
Artsy_ As a recurring art event, the Gwangju Biennale carries a heavy burden: to deal with the legacy and trauma of the democratic uprising and the massacre that followed in the city in May 1980, a recent historical event that has not reached its closure. Indeed, only a week before the opening, a grandson of the now-deceased South Korean dictator paid an unexpected visit to Gwangju, a city 270 kilometers away from the country's capital. He flew in from the United States to confess the wrongdoings of his family and apologize to the victims of the massacre in public, stirring the citizens of Gwangju to reflect on their memories of the incident.
Indeed, the Gwangju Biennale was inaugurated in 1995 under the country's first democratically elected president after decades of military dictatorship, as a way to commemorate the event. This year's artistic director, Sook-kyung Lee, who also serves as the senior curator of international art at Tate Modern, said that she also wanted the participating artists to "understand where the biennial came from" and not to "touch upon very slightly or on the surface" of the issue of direct actions's importance for liberation movements.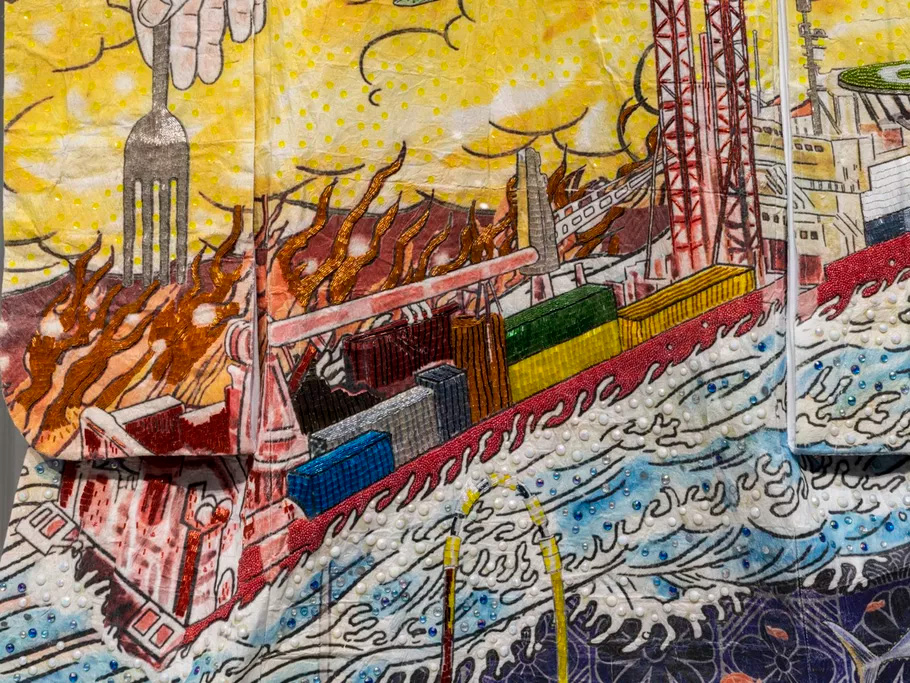 Yuki Kihara, Song About Sāmoa—Moana (Pacific), 2022. Photo by glimworkers. Courtesy of the artist and Gwangju Biennale Foundation
The 14th iteration of the Gwangju Biennale, "soft and weak like water," borrows its title from a line in Tao Te Ching with an emphasis on the water's capacity to permeate seemingly impenetrable things. The exhibition, which comprises the main exhibition hall building, four satellite venues, and nine additional national pavilions, proposes a planetary yet local perspective on what art means in our time of automated and enhanced bias, division, and conflict. With 79 artists and collectives from predominantly non-Western or Global South countries, this year's biennial offers in part a view of artistic practices that have been disregarded by a Western, Eurocentric perspective.
As such, one might consider "soft and weak like water" as an exhibition that fulfills its title both in positive and negative ways. But true to its reference to a Taoist classic Tao Te Jing, the biennial nudges the viewers to expand their view of today's world, by juxtaposing practices of so-called "indigenous" origin with a mediated reflection on the sufferings that took place in its host city, Gwangju.
Here are some of the artists from this year's Gwangju Biennale who deal with the complexities of different histories through artistic practice and speak to the conditions of our time.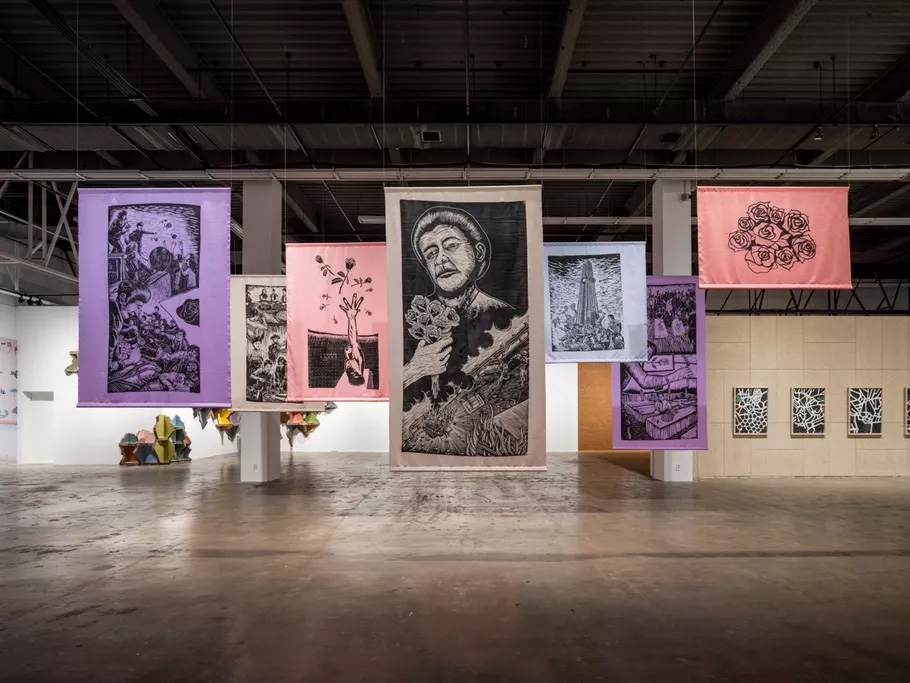 Pangrok Sulap, installation view of Gwangju Blooming, 2023, in "soft and weak like water" at the 14th Gwangju Biennale, 2023. Photo by glimworkers. Courtesy Pangrok Sulap and Gwangju Biennale Foundation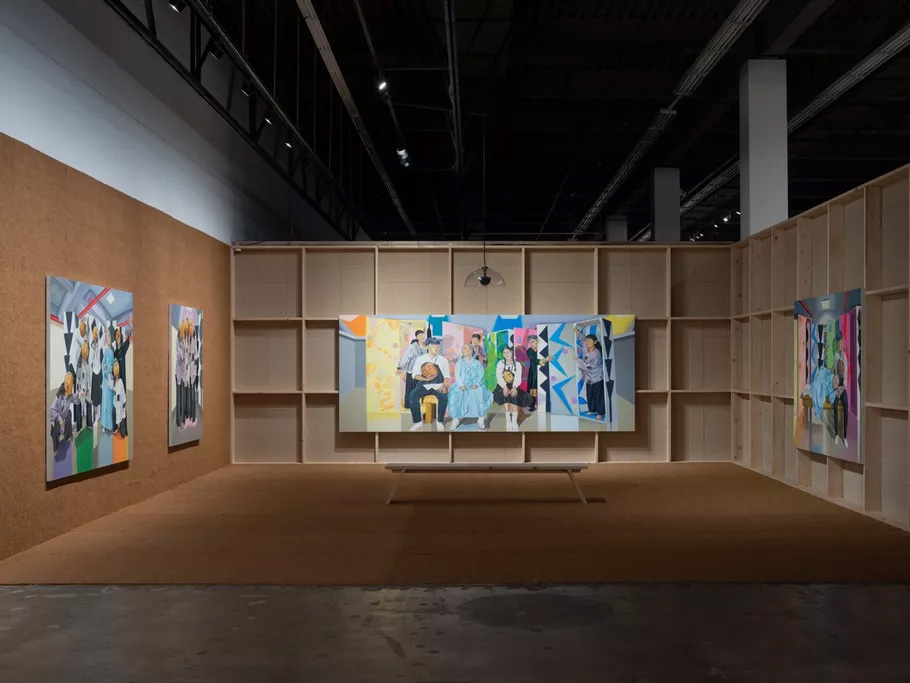 Aliza Nisenbaum, installation view in "soft and weak like water" at the 14th Gwangju Biennale, 2023. Courtesy of the artist and Gwangju Biennale Foundation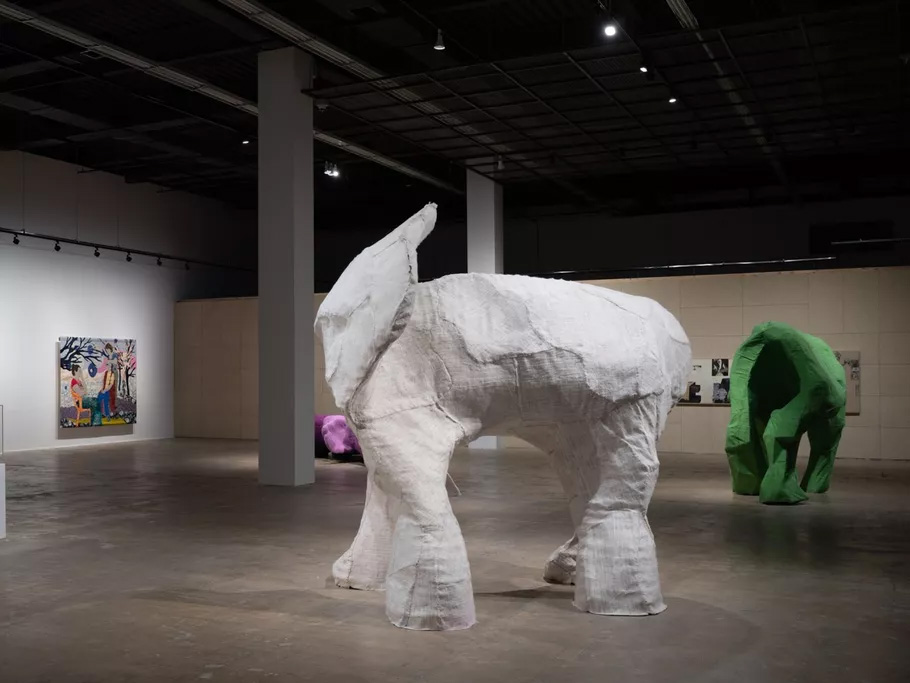 Oum Jeongsoon, installation view of Elephant without trunk,2023, in "soft and weak like water" at the 14th Gwangju Biennale, 2023. Courtesy of the artist and Gwangju Biennale Foundation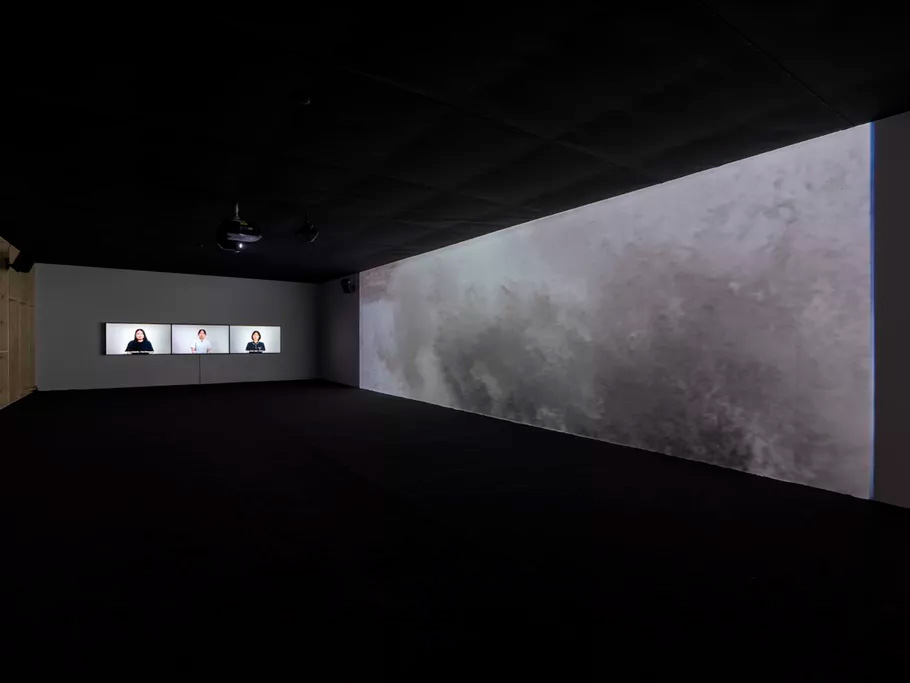 Soun-gui Kim, installation view of Gwangju. Poems, 2023, in "soft and weak like water" at the 14th Gwangju Biennale, 2023. Photo by glimworkers. Courtesy of the artist and Gwangju Biennale Foundation
ikkibawiKrrr, installation view in "soft and weak like water" at the 14th Gwangju Biennale, 2023. Photo by glimworkers. Courtesy of the artists and Gwangju Biennale Foundation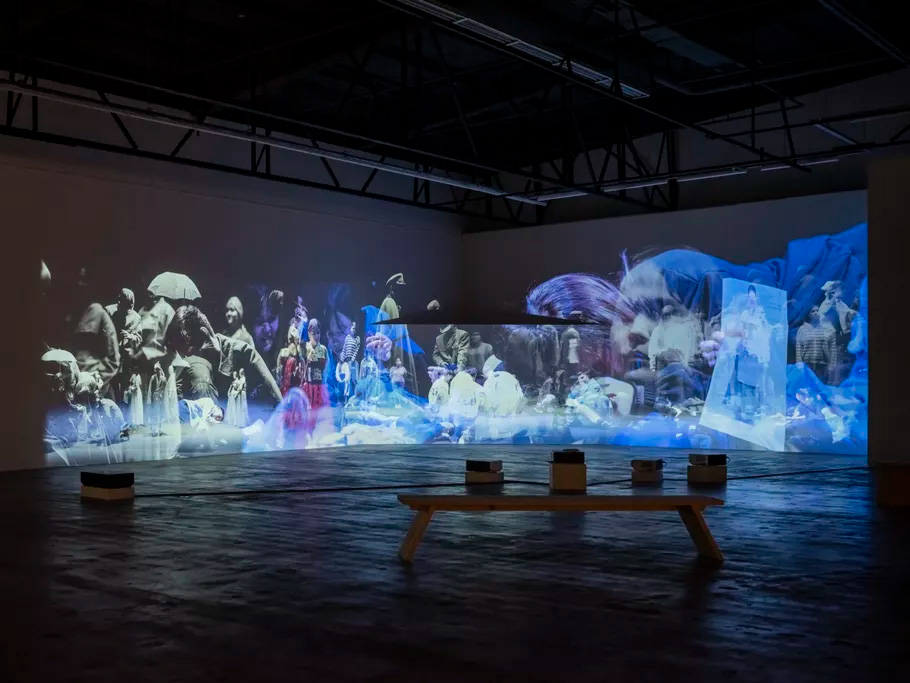 Meiro Koizumi, installation view of Theater of Life, 2023, in "soft and weak like water" at the 14th Gwangju Biennale, 2023. Photo by glimworkers. Courtesy the artist and Gwangju Biennale Foundation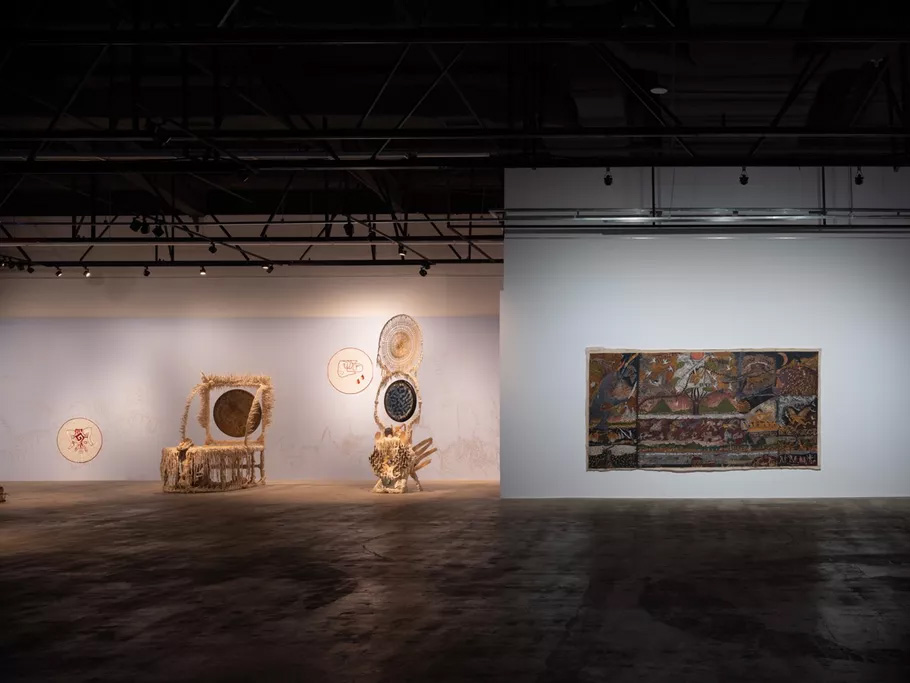 Installation view of "soft and weak like water" at the 14th Gwangju Biennale, 2023. Courtesy of the Gwangju Biennale Foundation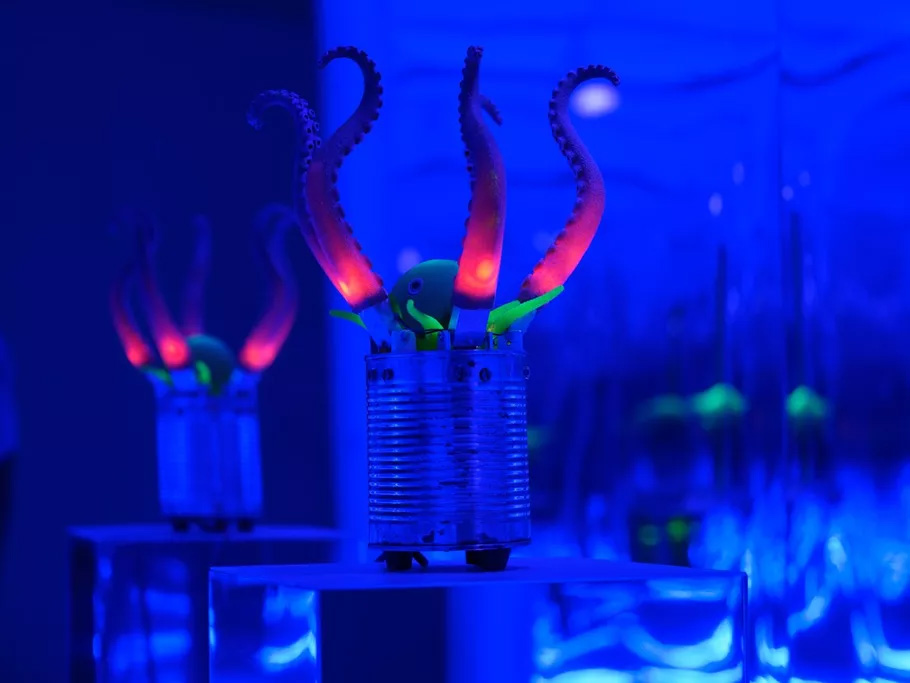 Anne Duk Hee Jordan, Octopus Garden,2023. Courtesy of the artist and Gwangju Biennale Foundation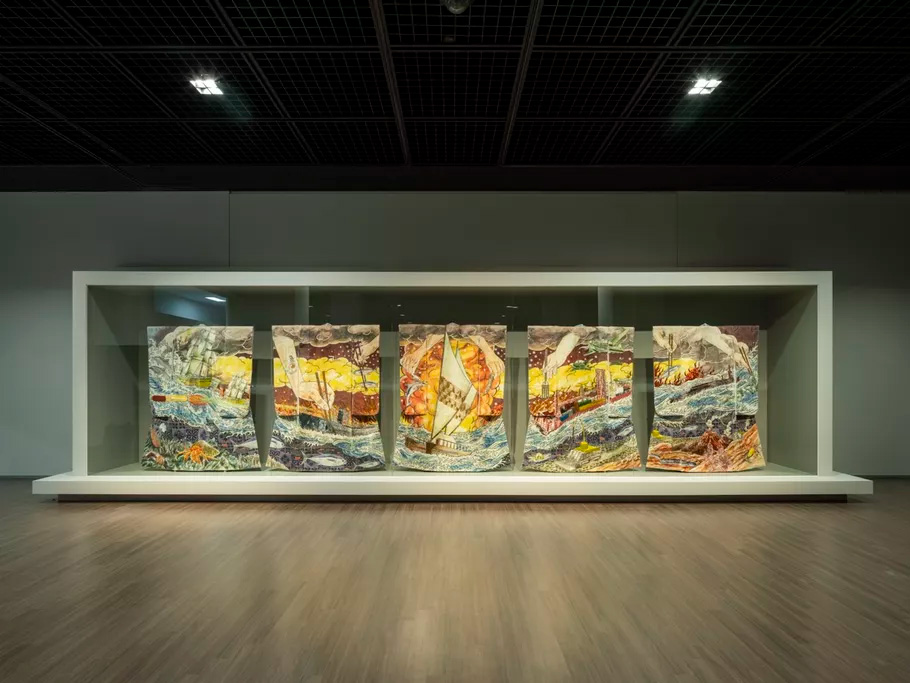 Yuki Kihara, installation view of A Song About Sāmoa—Moana (Pacific), 2022, in "soft and weak like water" at the 14th Gwangju Biennale, 2023. Photo by glimworkers. Courtesy of the artist and Gwangju Biennale Foundation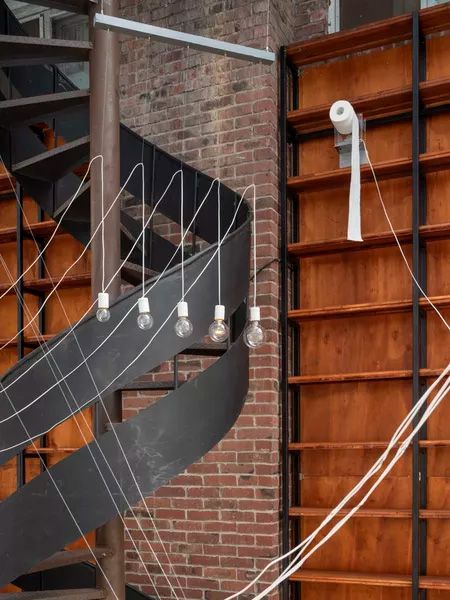 Yuko Mohri, installation view of I/O,2011–23, in "soft and weak like water" at the 14th Gwangju Biennale, 2023. Courtesy of the Gwangju Biennale Foundation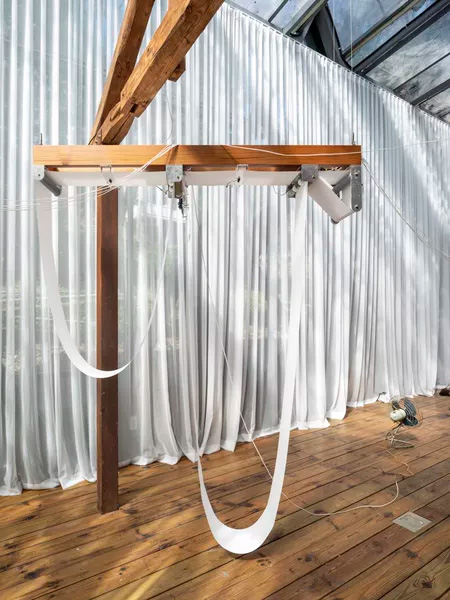 Yuko Mohri, installation view ofI/O,2011–23, in "soft and weak like water" at the 14th Gwangju Biennale, 2023. Courtesy of the Gwangju Biennale Foundation