ian strange turns homes into giant light installations for 2022 fotofocus biennial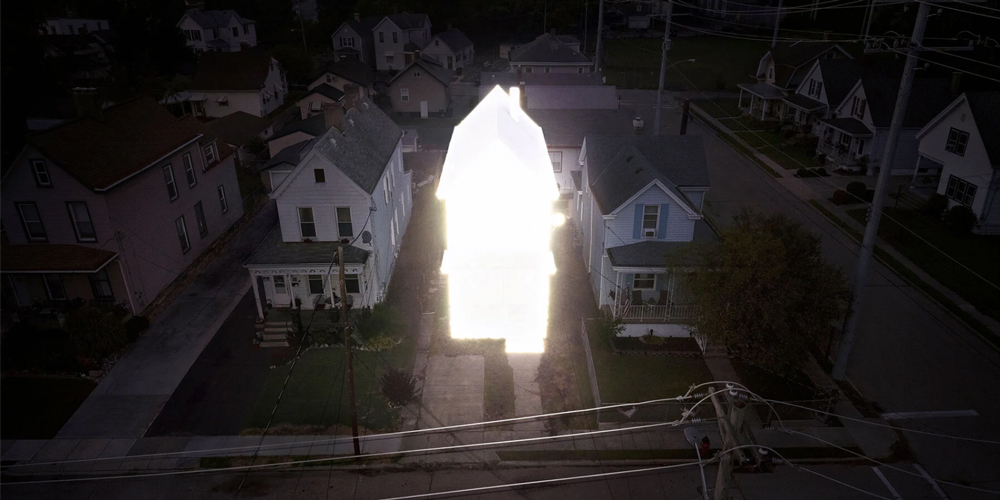 Designboom_ Leading Australian contemporary artist Ian Strange has been commissioned to create 'PENUMBRA', a series of major new light installations and photographs for the 2022 FotoFocus Biennial in Cincinnati, USA. Incorporating real homes in the Ohio city, the large-scale works were set up and captured by Strange and his collaborators over two months, utilizing dramatic, single-source lighting to illuminate and obscure the dwellings and neighborhoods.
The first work, 'Ley Avenue', casts a single, monumental shadow of the home across the street and neighborhood, and the second, 'Walnut Street', transforms the residence into a brilliant white silhouette of light (created by meticulously wrapping the entire structure in a light-reflective material commonly used on street signs).
According to the artist, 'PENUMBRA' refers to a partial or imperfect shadow outside its darkest point, a place between total illumination and darkness. Strange's two final photographic works, presented alongside research and archival histories of each home, therefore reflect on the imperfect act of seeing the narratives of place and landscape and presenting the psychogeography of a home.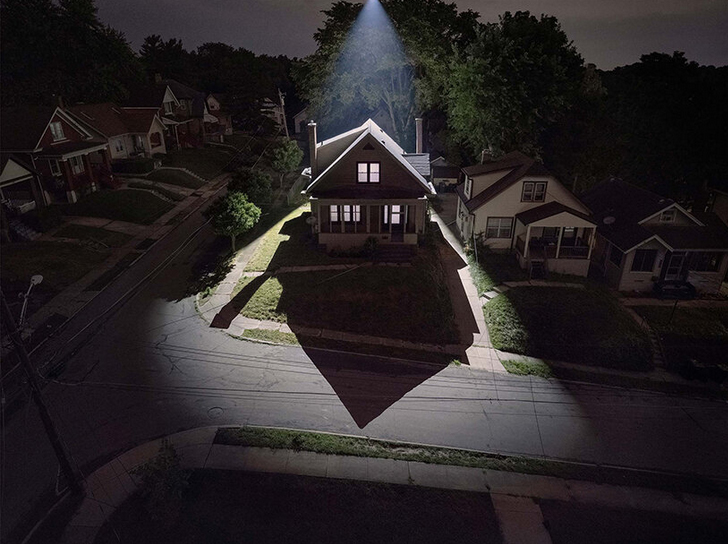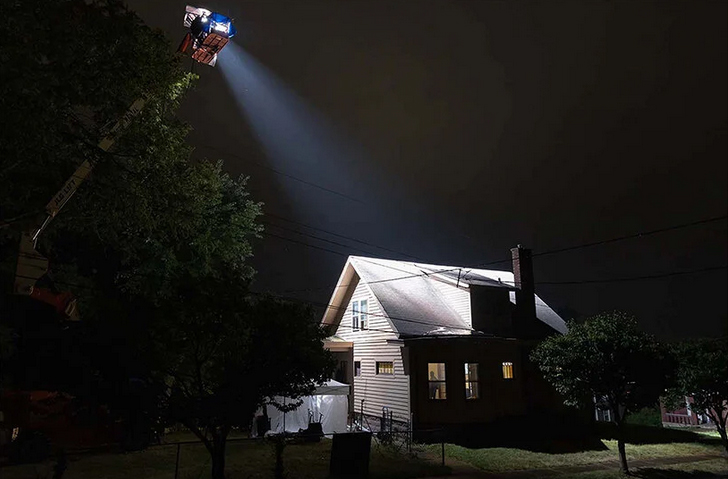 The photographic project and research premiered in 'Disturbed Home' a new comprehensive survey exhibition of the artist's work at the Art Academy of Cincinnati for the 2022 FotoFocus Biennial, curated by Biennial artistic director and curator, Kevin Moore. The exhibition is also launching as a new monograph available to purchase on the publishing platform Damiani— edited and with essays by Moore himself and Britt Salvesen, curator and head of the Wallis Annenberg Photography Department and the Prints and Drawings Department at the Los Angeles County Museum of Art (LACMA).
'PENUMBRA reflects on the existing visual records and histories of neighborhoods, as well as the effects of environmental and economic conditions on specific homes in the region. Strange's Cincinnati interventions and their photographic output offer interpretive documentation of the city's domestic history by examining the changing fates of particular neighborhoods, homes, and the populations who continue to dwell there,' writes Moore.