daniel arsham brings his eroded car sculptures to petersen automotive museum in los angeles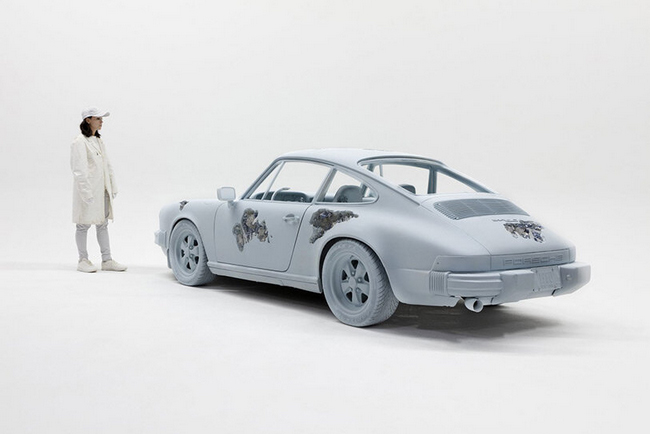 Designboom_ From February 25 to November 26, 2023, New York-based artist Daniel Arsham will present his eroded car sculptures at the Petersen Automotive Museum in Los Angeles. The exhibition, titled 'Arsham Auto Motive,' features several replicas of supercars, including the Porsche 356 Bonsai and other automotive artifacts in the interdisciplinary artist's signature style, and depicts a 'fictional archeology' in which objects from our cultural and material present are dug up sometime in the distant future.
The new exhibit at the Petersen Automotive Museum illustrates Daniel Arsham's fascination with cars and archaeology. In the show, current automotive designs are conceived as historical relics, some of which have been eaten away by the passage of time. More specifically, the exhibition includes the Eroded 1968 Ford Mustang GT Fastback, 1955 Porsche 356 Speedster, 2018 Eroded Ferrari, and 2022 Blue Calcite Eroded Porsche 911. These casts of modern artifacts are made from geological materials such as sand, quartz, and selenite, and appear fossilized as if they had just been discovered after being buried for a long time.
Through the sculptures in Arsham Auto Motive, the New York-based artist historicizes the automobile — a prime example of modernity — and its associated symbols, giving the viewer a glimpse into future history. 'Arsham's 'eroded' works occupy a space where the concepts of yesterday, today, and tomorrow collide,' reads the exhibition description on the museum's official website.